Growing plants indoors can get messy with soil and dirt. Plus it's can be hard to know if your plants are getting enough water, nutrients, and light. That's where a hydroponic garden can help!
Indoor hydroponic gardens are hydroponic systems built specifically for indoor use without the use of soil as a growing medium. Plant roots are submerged in a nutrient solution instead of soil. This nutrient solution is created with water and a mineral blend appropriate for plant nutrition.
While this might sound complicated it's actually fairly simple especially if you buy a ready made system. But there are different types and styles of soil less garden systems. I'll cover some of the basics, what the best indoor gardens are as well some common questions about hydroponics.
Types of Indoor Hydroponic Garden Systems
There are many different types of hydroponic systems available. Ranging from true hydroponics where the plants roots are submerged in water and a bubbler helps to oxygenate the water like in deep water culture. To aeroponic systems where the roots are in air and get misted or dripped on with a nutrient rich solution.
The main types of hydroponic systems are Wick Systems, Deep Water Culture, Ebb and Flow, Drip System, NFT, and Aeroponics. Choosing the right type of system that suites your needs, budget and space is important to give you the best chance of sucess growing healthy plants.
Hydroponics Base has done an excellent job of explaining the different types of hydroponic systems available.
Best Indoor Hydroponic Garden Systems
I know it can be overwhelming looking for the right indoor garden for your home but I've done the research and tested some of these systems to find the best hydroponic systems for you to use in your home.
Top Pick: Tower Garden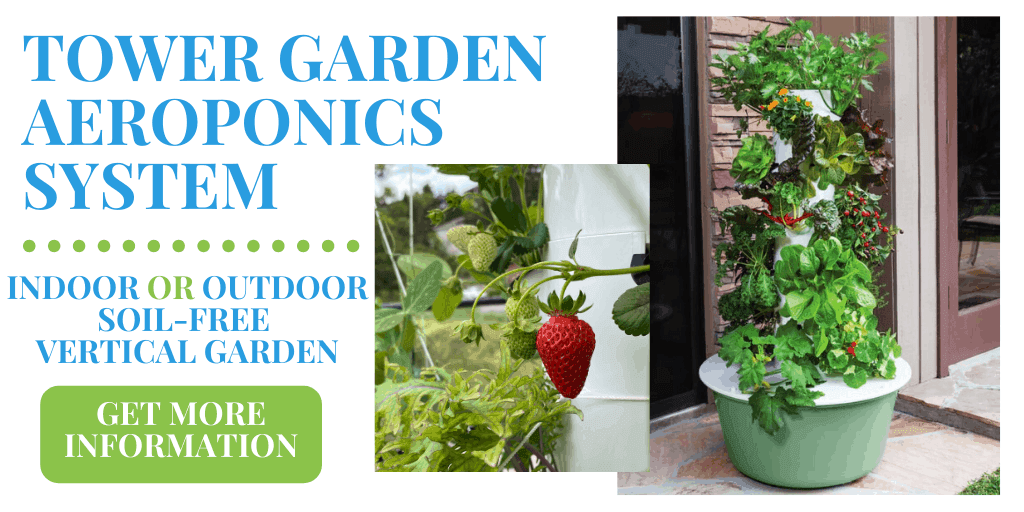 The Tower Garden is an aeroponic style grow tower. The roots of the plants are in open air and intermittently dripped on by a water based nutrient solution.
It uses a low power submersible pump to pump the nutrient solution from the water to the top of the tower where it will trickle down over the roots of the plants.
I'll be honest, I love the Tower Garden and have one at home that I am constantly amazed by. Plants grow extremly well in this setup and it's very easy to take care of.
It comes with everything you need to get started. The box includes the entire tower setup including netpots, Rockwool grow medium, seeds, nutrient solution, pH testing kit, water pump. The only additions you need are lights, which you can get from Tower Garden too.
Tower Garden has two models the Tower Garden Flex and the Tower Garden Home. The Flex can hold 20 different plants and can be used indoors or outdoors. The Home can hold 32 different plants, though 16 of them are for small plants or microgreens, but is designed to be used indoors.
There are a couple of drawbacks to the Tower Garden. It is more expensive than most of the other hydroponic gardens listed here, but it can grow many more plants. Tower Garden also offers no interest payment plans which makes it much more managable. It's also fairly large with a 30″ diameter footprint.
But the ease of use and flexibility of the Tower Garden far outweigh these drawbacks. Learn more about this amazing growing system on the Tower Garden website.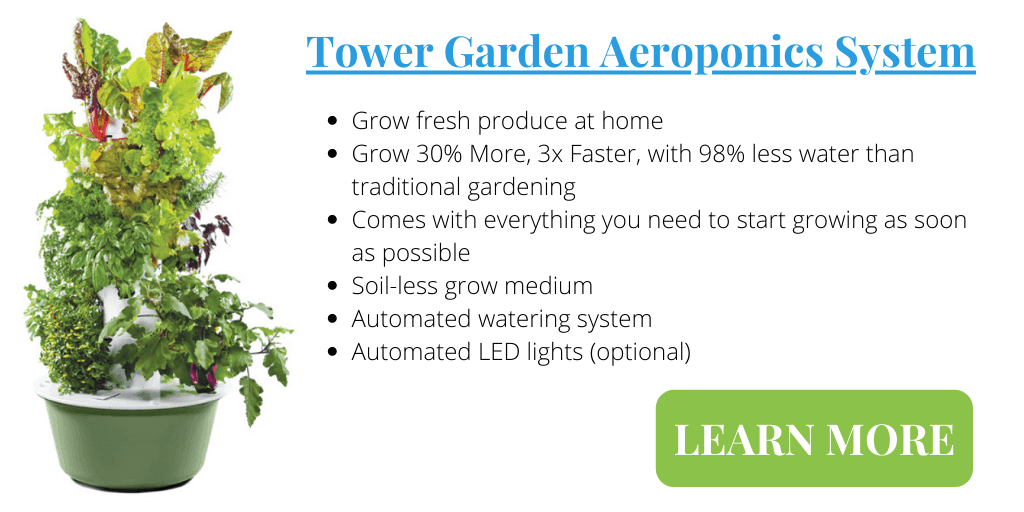 Back to the Roots Water Garden
The Back to Roots Water Garden is the baby step into the world of hydroponics, well technically aquaponics. It's very small scale but still can grow small herbs or microgreens easily.
In a typical fish tank, fish waste produces ammonia that eventually makes the water toxic to the fish. But in this micro aquaponics system, the ammonia-rich waste is absorbed by the plants which leads to higher plants growth. Since it's a closed loop system the now clean water filters back into the tank and the cycle repeats.
I love the idea of aquaponics and combining it into a miniature countertop version is perfect if you just want to try out growing plants in a soil free way. It's also a great alternative to the typical goldfish bowl.
There is relatively little maintenance, though you do need to remember to feed your fish and you will have to change the water now and then. But compared to caring for plants or a regular fish tank it's basically maintenance free.
The kits includes everything you need from the tank to seeds to a water pump and grow stones. Just add your fish and you are ready to go!
Click & Grow Smart Garden
The Click and Grow Smart Garden is the ultimate system for those of us with a very black thumb. This small indoor garden works with Click and Grow Plant Pods which are prepackaged with "smart soil" and non-GMO seeds.
All you need to get started is to plant the pods, add water to the reservoir, plug in the Smart Garden, and watch your plants grow. The Smart Soil pods take care of the nutrients needed for your plants so you don't need to worry about adding minerals to the water.
There are over 50 different plants to choose from including vegetables, herbs, and flowers. You can also buy Experimental Pods which you can add your own seeds to try growing different plants.
The kit comes with everything you need to get started including some basil plants. You have the option of getting the smaller version which can grow 3 plants at a time or the larger one which can grow 9. The Smart Garden 3 has a 12″x5″ foot print and, with the lights, can be up to 19″ tall. The Smart Garden 9 has a footprint of 24″x17″ and can be close to 24″ in height.
Also, when you're plants start to outgrow the Smart Garden you can transplant them into your favorite vertical garden planter. Basically you can use it as a foolproof plant nursery. Especially with Click and Grows sprouting guarantee.
AeroGrow Harvest Elite Indoor Garden
The AeroGrow Harvest Elite is another fully set-up and self contained counter top hydroponic system. The Harvest Elite has room to grow 6 different plants up to 12″ tall.
The built in LED light is extremely thin and red, blue, and white LEDs to mimic the full spectrum of light from the sun. This means your plants won't even realize they aren't in natural sunlight and you don't need to worry about weather and pests damaging your crop.
AeroGrow uses pre-made seed pods to make growing easy. You can get salad mixes or salsa blends that have different varieties of plants in them. They also have Grow Anything pods which let you use your own seeds too.
The built-in timer sets the lights and water system to turn on and off automatically. The only thing you have to remember is to fill the water reservoir and add your plant nutrients. The Harvest Elite will actually remind you to do this too!
The Harvest Elite is a nice balance of size and plants. As I mentioned it can grow 6 plants at a time and has a foot print of 10.5″x6″ and reaches up to 17.4″ in height. AeroGrow has several other models available too if you want something smaller like the Sprout or larger like the Bounty, or just a different shape like the Harvest 360.
Aunifun Hydroponics Grower Kit
The Aunifun Grower Kit is a small scale, DIY hydroponics kit. It includes all the parts you need like the air pump, netpots, growing medium, water level indicator, and reservoir, just buy some seeds and assemble.
You will have to buy a nutrient solution to feed to your plants, that's the only thing they haven't included that I wish they would have. I recommend Advanced Nutrients as a great nutrient solution. You can also check our article the Best Hydroponic Nutrients.
The Anunifun Grower Kit is extremely affordable, especially compared to the fancier done for you systems. It's about 1/3 of the price. But it also doesn't include any grow lights. You'll have to purchase these separately if you don't have a bright, sunny window.
Keep in mind this is a small kit. It has an 11″x7.5″ footprint and is about 5.3″ tall. It will house 6 different plants at a time but you have to freedom to choose what you want to grow without being limited to premade pods.
Moistenland Hydroponics Growing System
The Moistenland Hydroponics Growing System is another done for you hydroponic system. It has a few unique features that help it stand out from the crowd.
One unique feature is the built in fan. The fan, which is built into the overhead light system, creates a gentle breeze to help strengthen seedling and grow strong plants. The breeze also helps with pollinating fruiting plants since the air flow will let plants like tomatos and peppers self pollinate.
It also has a dual light setting so you can set it to either leafy or fruiting/flowering plants which need a different spectrum of light.
It does have a couple of drawbacks. You will have to purchase nutrient solution like Advanced Nutrients. You can also check our article the Best Hydroponic Nutrients.
You also have to buy your own seeds and it's hard to find replacement seed pods. That being said you can trim AeroGarden plant pods to fit in the unit or use a DIY version with Rockwool cubes.
The Moistlenland kit has a footprint of 10.24″x13.78″. It is 15″ tall with the light at it's maximum height which gives you just over 11″ of growing space. It can hold 12 different plants which is more than many other similarly priced systems.
Homend Indoor Hydroponic Grow Kit
The Homend Indoor Hydroponic Grow Kit is a small scale deep water culture hydroponic system. It's fairly basic compared to some of the fancier done for you systems but it's also much less expensive.
It includes everything you need to get started aside from seeds and nutrient solution. It comes with an air pump, air stones, reservoir, netpots, grow medium, water level indicator, and instructions on how to set it up and get growing.
The body of the reservoir is made of food grade PVC, (learn more about if PVC is safe for hydroponics in my article) so you don't need to worry about chemicals leaching into your plants from the plastic. The only thing missing is a grow light which you will need if you don't have a nice southern window for your kit.
The Homend has a footprint of 16.26″ x 10.87″ and a height of 5.51″. It has space for 11 different plants. After your first harvest, you can continue to use planting sponges for your growing medium or switch to my favorite Rockwool.
Atwater HydroPod Deep Water Culture System
The Atwater HydroPod is a deep water culture (DWC) system where the roots of plants are submerged in a nutrient rich water solution that is well aeriated.
The HydroPod comes with everything you need to get started including the air pump, ph testing kit and grow medium for your seeds. It also includes enough plant nutrients a.k.a. plant food to last for months.
While this set-up may not be as pretty or counter friendly it still is fairly compact plus you aren't restricted to expensive grow mediums and plant pods like other brands.
If you have room in your house or apartment for a 5 gallon bucket then you have space for this hydroponic system. But there is a little more maintenance involved with managing plant nutrients, water levels, and general plant germination.
DreamJoy 4 Layer Hydroponic Growing System
The DreamJoy 4 Layer Hydroponic System is a much larger system then most of those listed here. But it is a true vertical garden hydroponic system.
It consists of 4 layers of food grade PVC pipe with 9 grow holes in each pipe for a total of space for 36 different plants.
Water is pumped from a nutrient reservoir to the top pipe, from there the water flows down through the pipes providing nutrients to the plants. This is an Ebb and Flow style system.
There are a few drawbacks to this system. You will need to source your own reservoir but the submersible water pump is included. You also need to assemble it yourself but it's fairly straight forward.
This is a large system. It's 41″ long and 40.5″ tall and with the support legs 19″ wide. So it will take up a decent amount of space. You will also need either a large window or purchase LED grow lights.
Benefits of having an Indoor Hydroponic System
There are many advantages of having a hydroponic garden at home. I'll list a few of them here so you can understand why I love hydroponic systems.
Provide nutritious and fresh vegetables, fruits and herbs.
Modern technology
Can be compact in size and design
Soil-free plants
Fewer Pests
Superior high-quality plants
Faster growth
Affordable
Higher yields
Save water and money
Water can be recycled for usage
No weeds (my favorite! I hate weeding)
Frequently Asked Questions
There are many questions that I am commonly asked about hydroponic systems whether indoor, outdoor, vertical or horizontal. I'll cover a few of them below.
What types of plants can you grow with hydroponics?
You can grow most vegetables, fruits, herbs, and house plants in a hydroponic system. Plants with shallow roots tend to work best and root vegetables are usually better off in a soil based growing environment.
The doesn't mean it's not impossible but when starting out, sticking with leafy greens will give you the best chance of success especially in an indoor hydroponic system.
We have an article that covers the best plants to grow in a hydroponics system.
Is lighting essential to grow plants indoors?
All plants need light to grow, so if you are growing your plants indoors they need to be placed in a sunny window or have grown lights. You will need to provide your plants with at least 6 hours of sunlight per day or use proper lighting.
Choosing the proper type of lighting system is mandatory for good growing results. Leafy green vegetables have different light spectrum needs compared to fruiting/flower plants. Plus you'll want to stick with LED lights to reduce your power consumption.
Check out this article for the Best Hydroponic LED Grow Lights.
What nutrient solution should I use in my hydroponics system?
There are many different nutrient solutions available for hydroponic systems and it will depend on the types of plants you want to grow for the best nutrient solution.
One great option is Advanced Nutrients. It's a three part mixture and actually is pH perfect. You can also check our article the Best Hydroponic Nutrients.