While there exist a thousand ways to decorate your home, using plants is more economical and eco-friendly. And if you are about to try out a new hobby, then gardening would be the best one. Either way how you project it speaks it all.
Ferns or Crotons, they all serve to be a unique and outstanding piece of decoration provided that they are aligned and arranged perfectly. While there are various ways of showcasing your amazing skills, why not add a bit of creativity? Why not try the other ways of projecting your hobby? Well, in that case, Vertical gardening can be an alternative way. Vertical gardening renders you with a whole new platform to plant your saplings. You can also sprinkle a few elements of innovation over your plants.
So when you are considering buying a vertical gardening kit, it is essential that you surf on varied options before the land on the right one. The top 11 Unique and Decorative Vertical Garden Planters/Kit to which you can opt for in the new year are listed below.
1. Outland Living Vertical Gardner kit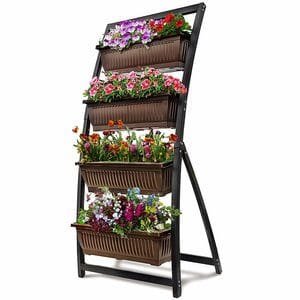 Plant your herbs and flowers in the Outland Living Vertical Gardener. It only covers about 6 square feet of the area. Thus it makes your task of locating a place to keep facile. Assembling it hardly takes 30 minutes even if you aren't so good at handling stuff.
It can accommodate 4 caskets rendering you with more than enough space to grow all your veggies and fruits. It is a suitable piece which would match with both your indoor and outdoor decor.
Some of its iconic featuring include the following,
The boxes are designed to suit all weather. So even if it's left without, maintenance it would last long.
The baskets are made with built-in water drainage system. So every time you exceed the required water level, you don't have to worry. Because it is been taken care of by the water drainage system.
It also has a water reservoir with an optional hole allowing water to flow from the top to the bottom.
Its ergonomic structure enables you to have a funfilled gardening experience even if you suffer from back problems.
The bin is made of Polypropylene material. The freestanding kit is strong and sturdy weighing around 30 pounds.
2. Amazing Creation Stackable Planter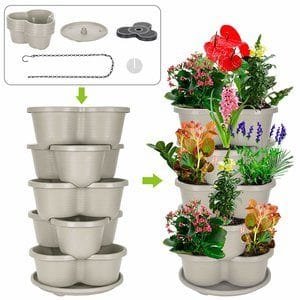 The 5 tier vertical gardening kit has space sufficient to stack 15 big plants. Irrespective of the place the vertical planter is designed to suit both indoor and outdoor decoration needs.
Choose your plants wisely and follow the manual to get your various queries answered. Similarly, the 11 pieces kit can be fixed with the use of the manual attached in a few easy steps. Its petite structure occupies only a little space.
A few other important advantages are
It weighs around 4 pounds. So you can transport it anywhere as per your choice. Further, the sturdy structure has made saving water as simple as a cup of tea.
The product is backed with a money-back guarantee. So you can bet all your money on its quality without a second thought.
Made of polypropylene, it does not easily give way to cracks and breakage. Change in the weather does not affect it at all.
Each planter is manufactured in such a way it locks into another awarding the stability and strength for the structure.
There are separators provided to save the nature and nutrients of plants. The chain allows you to also hang it. So, decorate and grow without anything restricting you.
3. Wadbeev Vertical Planter
The Wadbeev Vertical Planter kit is for all those who are looking to have one that would occupy very little space. It can be hung anywhere and can be carried without much trouble. It just weighs around 1 pound making it highly portable.
Some of the other benefits you can look forward to from this kit are as follows
It has been made with the usage of fabric material. Eyeholes are also provided in the pockets. It's both eco-friendly and doesn't affect your plants.
Fill it with soil and plant some veggies or herbs or some fragrant flowers or one from all as there are 12 pockets provided. So you can have one new plant for every month of the year.
This multi-pocket vertical hanger offers a promised durability and quality to all its gardener friends.
4. Yaheetech Vertical Gardening Kit
Cultivate and grow some amazing memories with 3 tier platform which measures 12 CM in length. However, the plant bed isn't provided along with the bottom plate.
The dovetail designed structure can be fixed into beautiful vertical Gardner by following the guidelines. It is carved using natural for wood that offers long-lasting life without much maintenance.
Some other details to be noted are below
Avoidance of paint and other toxic substance helps your plant grow in 100% natural environment.
The wood is thick and is each piece has been constructed in such a way to give you structure
With all the hardware and manual provided, fitting the pieces together will be trouble- free.
Whether it is in your garden or inside your apartment it suits both.
5. Mkono Ceramic hanging planter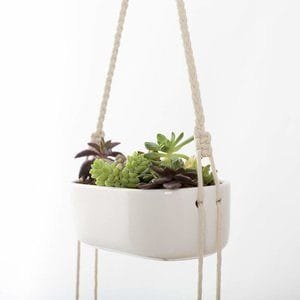 Some might be thinking that the "smaller it is the better". Mkono Ceramic Hanger is worth a try if you are so stuck with finding a place to start gardening. Made of ceramic and cotton the planter displays your creativity.
It is handmade and has a three-tier planting structure. Apart from this, a few other benefits which you might derive includes the following,
Having a party in your balcony or want some fresh stuff in your bedroom? You can use it anywhere both as a decorative piece or just a place to write plant your saplings.
The drain hole fixed in each pot avoids water stagnation.
Durability is never a point of argument when it comes to Mkono Ceramic hanging planter.
It's light body gives you a thumbs up when it comes to mobility. The vertical gardener can be relocated anywhere according to your wish.
6. Watex Mobile Green Wall planter
Give yourself access to a wide variety of plants. Grow everything you want with Watex Vertical planter as it has place sufficient space to grow 18 plants.
The planter is a product of recyclable plastic. Hence this new year you happily say that your new hobby has contributed a lot to the environment.
A few of its major attractions are
The wheels fixed at the bottom make sure you can just take it along with a choice of place.
It is totally manufactured with metal and has a unique irrigation system installed. Even if you are out of town your plants are watered perfectly. The Micro drip irrigation system takes care of it by feeding water automatically.
Easy to put back all the pieces and a perfect assistant to bring out the gardener in you will be ready in no time.
7. Wild Green Fingers hanging garden kit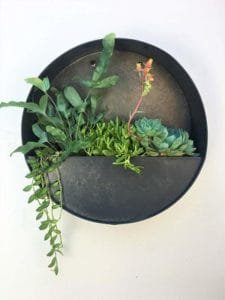 Now gardening becomes as simple as hanging a photo frame. You no longer have to worry about locating a suitable place. With 12 inches in diameter and by 4 inches deep you can bring all your gardening dreams to life.
There isn't much to assemble as well. A few screws here and here and you are done. Worries about the hardships in assembling do not arise anymore.
Apart from this it also holds a few mind-catching features like
The round-shaped planter is very much suitable for indoor purposes.
Just let your wild thoughts free and plant some awesome saplings. As the wall decor would absolutely fit with all sorts of decoration irrespective of its colour.
Weighing just around 1 pound it makes sure it can be moved around easily. This also happens to be a good gifting option.
Worried of the floor getting stained? Galvanized zinc material makes it leakage free and highly waterproof.
8. Algreen Vertical Planter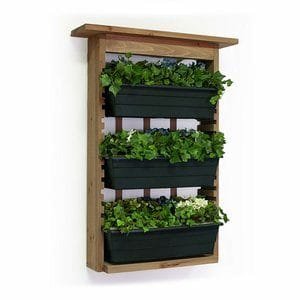 It has been perfectly put together to avoid you a piece that would fit both indoor and outdoor. Hang it on your fence or wall with ease. Necessary hardware is accompanied along and putting it back together is never an issue.
Perks of owning it are
The 3 planter comes along with a drainage system and UV inhibitor. This has been provided to protect it against the hard summer days.
With the 2 year warranty, you can grow as much as you want as there is no question on its quality.
Decorative trellis and well-built wooden frame add to the beauty of your home.
9. Keter Vertical Gardening Kit
The ergonomic structure makes it a suitable one gardeners of all ages. Hereafter there is no need for you to bend every time you want to sniff the fragrant flowers or aroma rich veggies.
A space of 31.7 gallons makes enough room for growing all your plants. It is suitable for both indoor and outdoor usage.
A few advantages include
The built-in water reservoir and water gauge tell you when your plant is hungry for more water. Thus it prevents you from flooding it with water.
A drain tap is also placed on its side to offer a quick outgoing passage for excess water. This can, however, be opened or closed based on the area.
You can plant directly and don't have to worry about leakage.
10. T4U Triangle Wall Planter
Set free your artistry senses and experiment some new ideas with the T4U Triangle Wall Planter. The small planter set which is available in different size can be the perfect choice of gift to your loved ones too.
Boons of it are
Make sure you make a wise choice of plants. As the multipurpose wall planter comes as a set of 4.
The ceramic designed outlook goes with any colour or any decor.
The reliable quality and outstanding durability make it a perfect choice for all those who are new to gardening.
11. Phoenix Vital Life gardener kit
This vertical hanger houses 9 pockets distributed over 3-tiers. The pockets can be easily clipped or removed as per your need. It can be hung both on the indoor and the outdoor surface.
Some of its features are
It is designed to support you under all weather especially from the hot summer rays. Be it summer or winter, you can enjoy gardening under all conditions.
Each pocket is provided with two drain holes. Thus protecting your plants from decaying from excessive water.
It is simple to assemble and move around. Though you aren't a master at these things you can put the pieces together in just 10 minutes.
As you plan your new set of resolutions include gardening as one of them. Use your spacewisely and innovate as much as possible. Veggies, herbs, fruits or flowers anything is fine. I hope you have some great plants that would tell stories at the end of next year.