Who doesn't like to have a miniature garden in their balcony or backyards? The fresh air, fruits, and vegetables, the pleasant scent of the soil, the energy it brings and the spirit it indulges. Every single factor is so refreshing and gives an amazing experience to just close your eyes and feel it. Imagine having an occurrence of it for real!
We know you can't just grow a garden by just placing some plants in your balcony. Just like your lifestyle, even plants have their own. They need to be watered daily. They should have a proper intake of sunlight and other nutrients. Even they need some space and lovely surroundings. Just because they can't ask, doesn't mean they don't need it!
Hydroponic planter kits are the ticket to all your problems. They provide you with facilities like watering your plants, providing nutrients to them and taking care of them when you can't. Using a garden kit is perfect for people with limited space. It provides the easiest way to maximize growing space in a small area.
To help you with this problem we are here with a gallery of 7 amazing planter kits that will
benefit you and your plant.
1. H2OToGro Hydroponic Growing System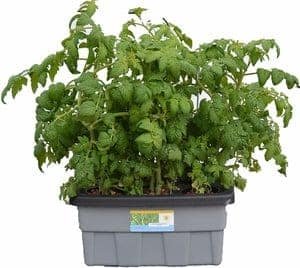 What is better than a gadget that works on its own? This SELF-WATERING kit includes six
3.75″ net cups, small cylinder air stone, water circulation/watering kit.
This is a DWC hydroponic system where nutrient-rich water is constantly delivered. Roots are designed to be in the reservoir beneath the net pot so that they constantly bathe in nutrient-rich solutions throughout the entire grow cycle.
Check out other amazing features of this product
2. Aunifun Hydroponics Grower Kit
Aren't DIY garden kits fun? They take care of your plants. They water them and also provide them with all the essential nutrients required. But stagnant water is equal to algae growth.
If you want to avoid this problem then the Aunifun grower kit is your best shot. This is because the crater and the planting basket adopt the dark material. This, in turn, prevents the light from entering the basin, thereby reducing the growth of green algae in the nutrient solution.
Along with this, don't forget to check out the other aspects!
3. PowerGrow Systems Hydroponic Bucket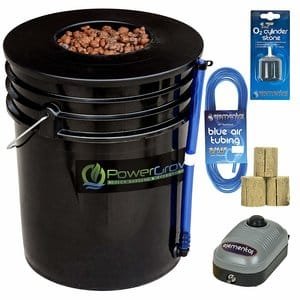 We know what's your reaction! "What? A bucket?" But never judge a book by its cover. This tiny bucket includes 5 Gallon FDA Approved Bucket with 6 inch Basket Lid. The PowerGrow
Systems Deep Water Culture System is easy and inexpensive.
The DWC system allows includes everything you need for a complete system to grow your
plants in no time.
The following are some of the best details we filtered for you.
4. Freehawk Hydroponic System Growing Kit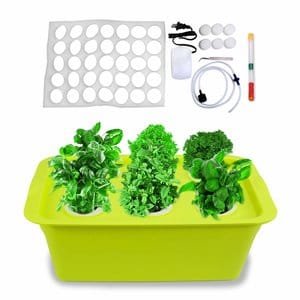 Hydropod!! Sound interesting? The Hydropod contains everything you need to start your own hydroponic garden in one box! Top feed recirculating hydroponic system kit is the simplest way to build a hydroponic garden.
This Deep Water Culture Complete Hydroponics system kit utilizes an air pump to simultaneously pump water to your plants using air pressure and oxygenate your reservoir. This helps your plant to grow quickly and has all the nutrients it needs.
Along with an interesting name it also has many interesting features.
6. KVMV Indoor Hydroponics Grower Kit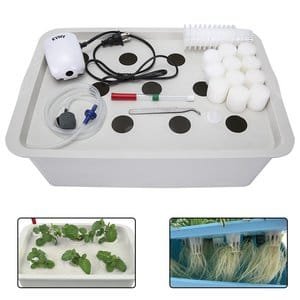 Tired of overpriced vegetables and herbs? Worried about what's in them or what pesticides
have been sprayed on them? Here's the solution This Hydroponics kit includes all the aspects needed for successful hydroponic growing.
Incredible for garden transplant, hydroponics planting, cloning, propagation, agricultural
experiment and Horticulture Education, indoor garden, outdoor planting, greenhouse, and
laboratory!
This planter kit is full of surprises. But we are here to tell you all about them.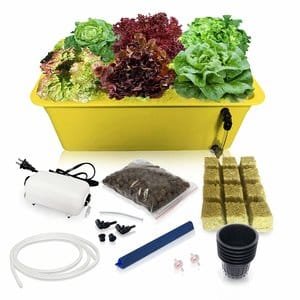 Love to have a garden? But don't have enough space for it? Here's the answer to your difficulty. 
With the new SavvyGrow planter kit your plants can get enough of minerals and all the nutrients they need without traveling far in search of them. You can grow all the herbs and veggies you want without using any pesticides and toxic fertilizers. What is decent than homegrown food that is crisp and clean?
Don't scroll down. If you do you will be missing amazing features of this planter kit.
BRING THE GARDEN INDOORS…!! Avoid bad weather, acid-rich soils, slugs and pests by growing healthy fresh herbs, salads, veggies, flowers & fruits with these wonderful planter kits.

These are Ideal for lovers of organic food and everyone who loves to grow plants.

Among the 7 kits, KVMV Indoor Hydroponics Grower Kit would be the best one because it provides all the features of planter kit along with many additional components.