This article will shed more light on the available ufo led grow light in 2021.
What are UFO Led Grow Lights?
Have you ever desired to have your little garden in your basement? But then you thought, "How am I going to get the light in there for it to grow?''
Well, according to research, light is an important factor when it comes to the growth of any plant. Light aids in yield production, promotes the process of cell division and also helps in the flowering of plants,
If the sunlight is not available, like when you are growing plants indoors, then technological advancements like these lights come in to help.
So behold! technology has gifted us with the UFO LED grow light. With it, you don't need to depend on sunlight anymore. You can choose to plant your flowers or vegetables anywhere you want.
UFO LED grow lights have all the capabilities needed to ensure that your plants grow healthy. And they have been modified and tested to give excellent results.
These lights are also very easy to use.
Features of UFO LED Grow Lights
Let's take you through some of their best features.
->Power Capacity.
With the UFO LED growing light, power should never be an issue, because these lights are meant to be used for long hours and hence they should not turn to get hot as it can be hazardous.
A good light should have a power capacity of at least 1000 Watts. At the same time, the power should be adjustable to maintain healthy growth in plants.
The light should be of enough power to give a healthy environment to your plants. The light's power should be adjustable according to the level of growth.
However, they should have a feature to bright or dim the lights according to the needs and size of your plantation.
-> Noiseless Operation.
The UFO LED grow lights are designed with a noiseless mechanism. High-quality efficient vents and fans have been fitted in these lights to minimize noise. Even if the light is near your bedroom, your sleep will not be affected.
-> UV function capability.
Ultraviolet rays are very important to plants for a number of reasons, firstly they play a pivotal role in the flowering of the plants and also helps in the general growth of the plant as well as in the killing of bacterias.
The LED grow lights emit UV rays which acts as a perfect substitute for the sun's natural light. These lights ensure the optimum growth of your plants.
-> LED spectrum
Research proves that when plants are exposed to certain constant light spectrums, photosynthesis becomes more successful.
The UFO led grow lights are built primarily with two led spectrums: Red and Blue. When your plants are exposed to these two spectrums their yield will most likely be high and healthy. This means you can always count on the UFO to get the best results.
Along with led lights your whole hydroponic system should be ideally made for your crops to grow in a good environment.
->Light Weight.
 A grow light is meant to be hung from a roof and hence it should be lightweight, otherwise, it can cause strain to your body while hanging. 
Lightweight lights have a benefit as they can be easily moved around the house with minimal effort. A good quality grow light will be lightweight will have enough spread of light for your plants.
How to install UFO Led Lights?
These lights come in various designs and shapes,some can be hanged from the roof ,while others have to be screwed in the roof. The type of light you should select will be depend on your roof height.
If the height between your roof and your hydroponic system is less than 10 Ft. then you can go with roof lights which are screwed in, and if the distance between roof and hydroponic system is more than 10 Ft. then you can opt for hanging  grow lights.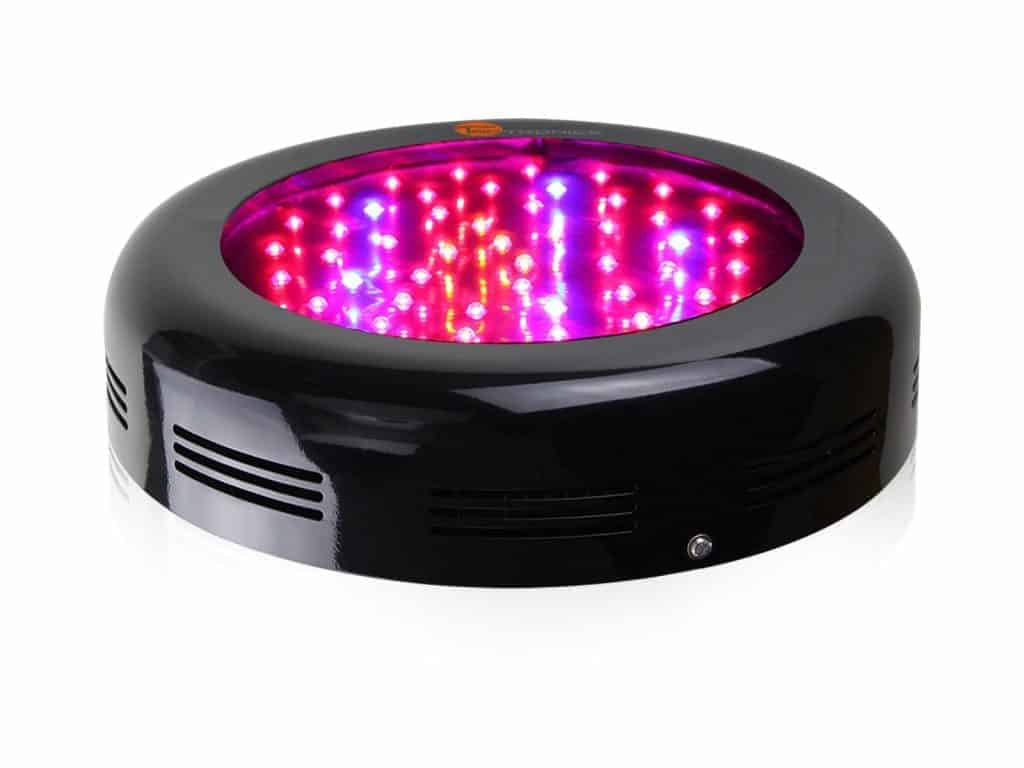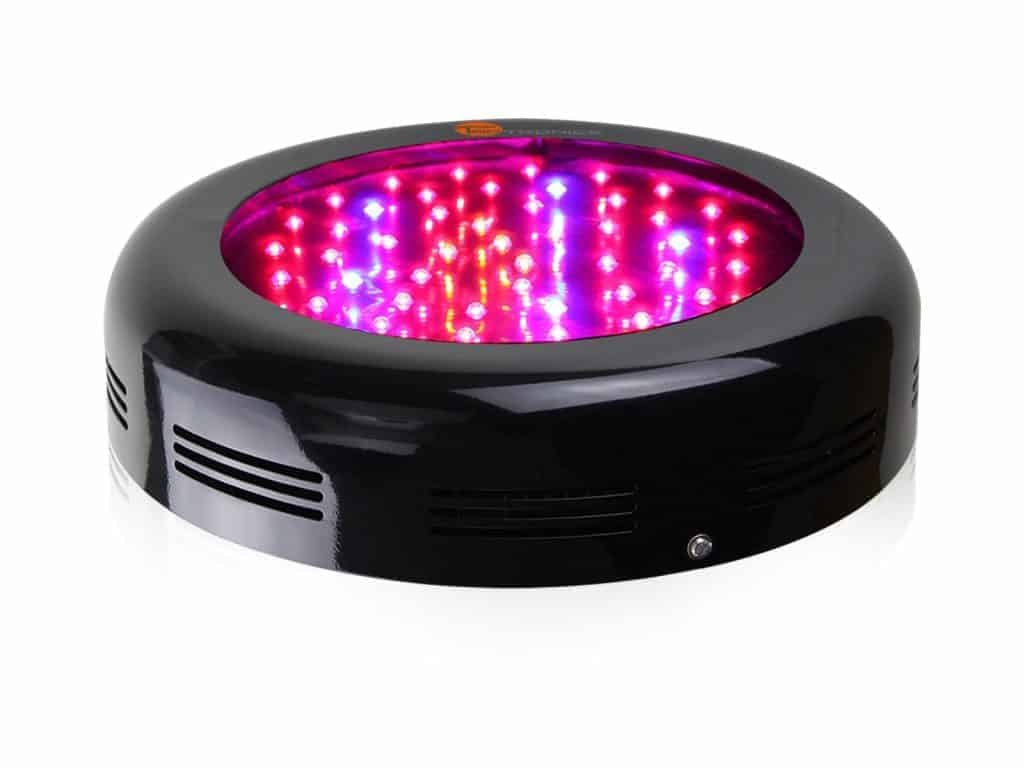 Roof Screw Grow Light
Hanging Grow Light
Why you should use Grow Lights for your Indoor Plants.
It is made of high-quality materials making it quite efficient.
It comes with a manual making it easy to operate; all you need to do is go through the instructions to see how simple it gets.
It is quite affordable for its qualities.
It is not heavy and it is energy-efficient.
It does not produce heat and this makes it easy to work with.
It is noiseless.
List of Recommended UFO Led Grow Lights
1- FINNEST SAMSUM Reflector Series
If you are looking for the LED grow lights remotely controlled so this product might be perfect for you. It has the most innovative technology and comes with the new COB chip and not with the traditional chip.
There are different modes like Veg mode, Bloom Mode and All on by which you can set the light as per your condition.
Why we like this- 
Much Brighter than others.
If you are fed up with the traditional and old LEDs of 3w or 5w then this is going to be your choice. This dual-chip LED is much brighter than the usual LEDs and has a dual-chip light system.
This is the full spectrum light with nine different bands which helps your plants, vegetables or flowers to grow more efficiently. The light not only comes with the three years warranty but also with the 90 days user satisfaction or return guarantee. 
Why we like this- 
The effectiveness of the light is superb.

Dual- chip system.

Nine different bands of light.

Full-spectrum.
3-Phlizon CREE Cob Series 1000W
Check Price
Looking to buy a LED grow light with high power and stability then Phlizon CREE Cob Series 1000W fits good for your gardening requirements. This LED comes with the CREE COB known for its better durability and performance. CREE COB is a type of LED with a full spectrum of lights. 
Why we like this- 
High actual power.

High PPFD Value.

Cob Series 1000W.

2 years warranty and 30 days money-back guarantee.
Check price
Bestwa Grow Light combines optical lens technology. This light has the 90 degrees lightning angle as well which is way better for your plant as compared to usual. There are two separate switches, Veg for seeding growth and another is Bloom for the plant and flower growth. This light fulfills all your all plant requirements. 
Why we like this- 
Two different switches.

2000W full spectrum.

More PPFD.

90 degree direct lighting.
If you are looking forward to buying the eco-friendly and energy-saving product but something less efficient so this should be your choice. With the powerful cooling fan system, this can be good for your plants. This has a 90 to a 120-degree angle of lightning. 
Why We like this- 
It has the reg lights perfect for the photosynthesis.
Fits good for smaller areas.
You can also see our detailed guide on Led grow lights as well as Best Led Grow lights in 2020 in our following blogs.
>Best Led Grow Lights in 2020<
Frequently Asked Questions About Led Grow Lights
Q1 : Can UFO Led Grow lights run for long hours with any difficulty?
Answer: Yes they can, they are meant to be. UFO grow lights are made from quality materials and they are made to run for longer hours as your plants need them to run for effective growth.
Q2: How much power does Led Grow light consume?
Answer: As they are Led lights they consume very less power. On average these grow lights will consume between 120-500 Watts of Power for a 12-hour run.
Q3: What should the elevation of the light be from the plants?
Answer: As the UFO LED grow lights play the major role in the growth of the plants so it should be placed at a normal distance from where it leads to grow plants easily, the recommended elevation should be between 1.5 to 12 inches depending on what you have planted whether it be vegetable, flowers or even your herbs.
Q4: Is this light suitable for any level of growth or do you need to start using it from a certain set level?
Answer: The light works perfectly with any level of growth. So don't worry if your flowers are sprouting or they are fully grown- the light will work well for all stages.
Led Grow lights in Action
<< Check Price For Grow Lights On Amazon >>
Let us know in the comments if you would like to know anything more about Led Grow Lights or if you would like us to review any particular product.