Stealth has become a bigger concern these days and this is the reason why fluorescent grow light bulbs have become a necessity. The best thing about them is that they don't produce as much heat as LEDs or HID lights do. That means they don't run your electricity bill too high. Plus, they are cheaper than you think.
Another amazing feature of the fluorescent grow light bulbs is that they are perfect for beginners. This means you don't have to buy secondary parts and setting them up is really easy as well.
So, if you are inclined towards this new grower-friendly world then check out the following 5 must-have fluorescent grow light bulbs. We have picked the ones that have the best reviews, produce less heat and last longer.
Top 5 Fluorescent Grow Light Bulbs?
Here are the top 5 fluorescent grow light bulbs we have come across.
VIVOSUN 250 Watt CFL Compact Fluorescent Grow Light Bulb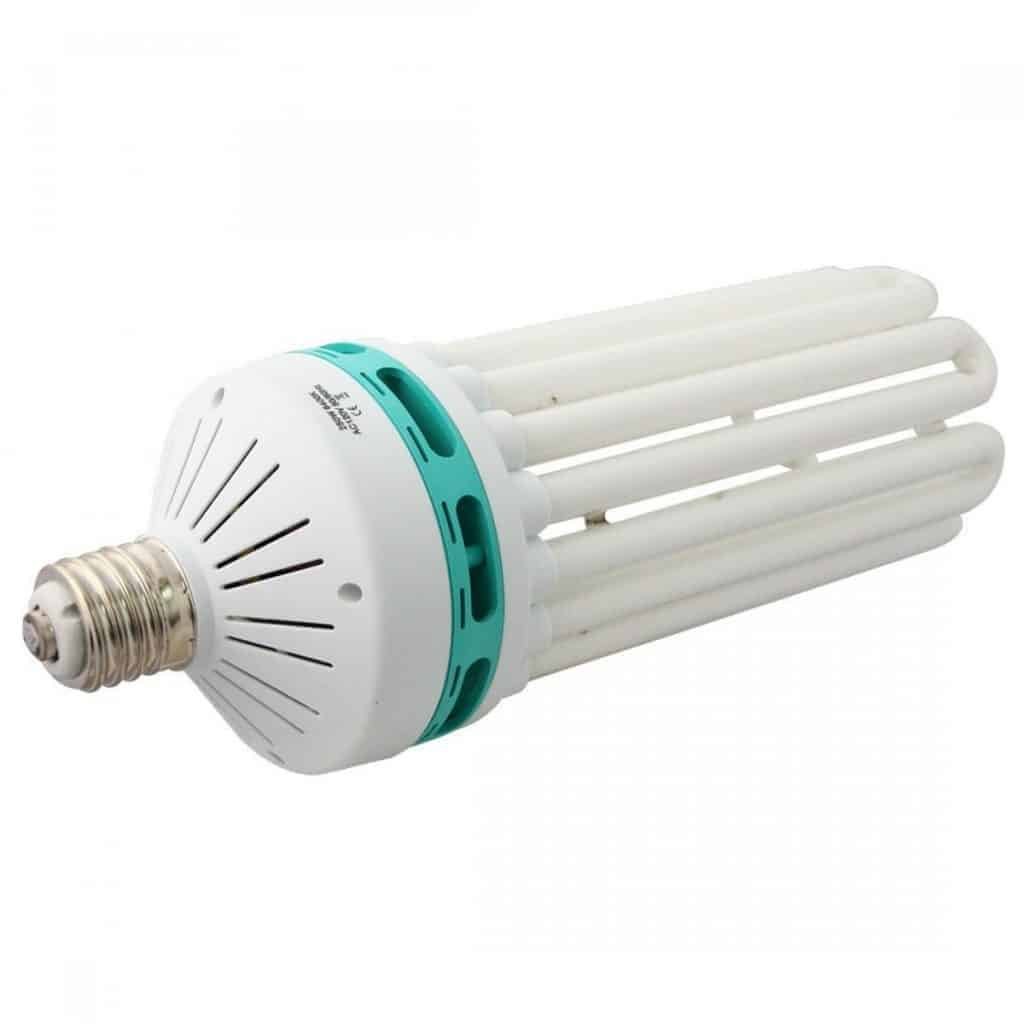 This fluorescent grow light bulb is slim, ultra-quiet and is perfect for stealth grows. It features a lumen boost specification which gives an amazing burst of light to the plants during flower cycle.
That way, you'll end up producing bigger harvests without too much effort. The light emitted by this bulb is bright, beautiful, and almost heatless. It leaves no spotting on the plants or anywhere near them when turned on.
The Vivosun 250W CFL Compact Fluorescent Light Bulb is made using quality thick glass that makes it last longer than a normal grow light bulbs. It comes with 10,000 hours of life. And it is pretty affordable.
 With it, you can do indoor gardening all year round. And you don't have to worry about any complex technicalities since it is very simple to install.
One drawback, though, is that it emits a lot of light. The lumen output is 14,000. This kind of light is okay for bigger homes but not for small apartments.
Despite that, the bulb does not produce too much heat. It has been designed to keep the temperature normal in order to avoid damaging the plants.
The bulb's cool spectrum is for vegetative growing while and the warm spectrum is for flower production.
All in all, the bulb is definitely worth a try. But keep in mind, once again, that it is suitable for people living in bigger homes and not apartments.
2. Apollo Horticulture 250 Watt CFL Compact Fluorescent Grow Light Bulb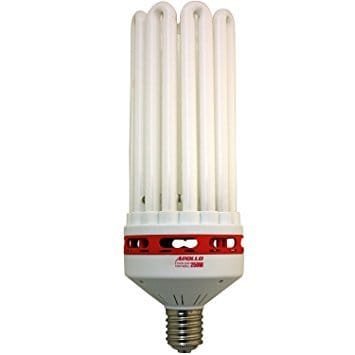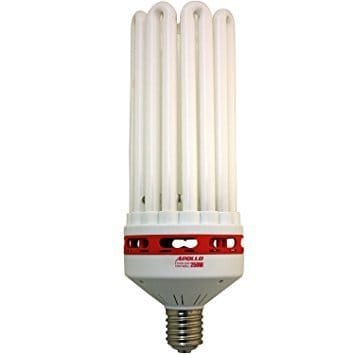 This is probably the best of the fluorescent grow light bulb you'll find out there. It is made to cater for all your growing needs. Plant and herb growth can be stimulated to the maximum with it.
One interesting thing about it is that it illuminates using a using mercury and argon in the U-shaped tube. It is hardly like one of those old-fashioned bulbs.
As compared to incandescent light bulbs, it lasts 10 times longer. Another amazing thing about it is that it uses only a third of the electricity you would expect it to use. But make no mistake – it requires less wattage but produces equal light.
This bulb is easy to use and cheap in price. And no ballast is required. You can grow plants and herbs easily in a small space. It also gives you more control by allowing the dimmer option whenever it is needed.
The Apollo Horticulture Compact Fluorescent Grow Light Bulb feeds the plant hydroponically and ultimately gets you the best quality buds. With it in your lighting system, indoor growth problems will be unheard of. Its light is warm but doesn't produce as much heat as normal light bulbs do. And with it, there is hardly any hum and flicker problem.
It is certainly one of the most practical fluorescents grow light bulbs in the market.
3. Virtual Sun VSD1000WDS Dimmable Light Kit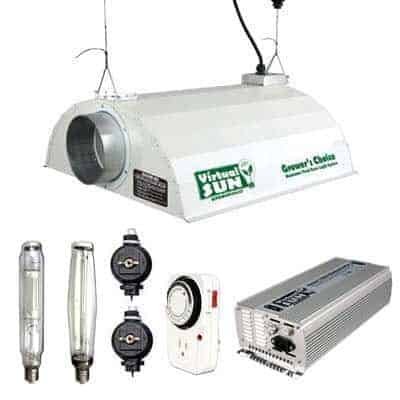 Virtual Sun VSD1000WDS is a professional fluorescent light bulb kit which comes with a 6-inch reflective hood. The light bulb kit is perfect if you want maximum crop yield. It is natural for seedling propagation and indoor gardening. The holder allows for the insertion of cooling fans to maintain the necessary temperature for optimum growth.
This fluorescent light bulb kit is so advanced it reduces light loss by reflecting it. This way, the growth process can be expedited while keeping things balanced.
With this kit, you also get complete control – owing to the dimming feature. A feature that would be helpful when planting seeds or seedlings.
The Virtual Sun VSD1000WDS bulb carries an 1100 Watt feature for an extra boost when you need it before the harvest.
The entire kit comes housed in a plain cardboard box which protects it from breakage. It also comes with a 13-feet long power cord, making it quite portable.
The great reviews on Amazon are evidence that this bulb kit is definitely worth a try.
4. Hydrofarm Agrobite Designer FLT24 Commercial System With Bulbs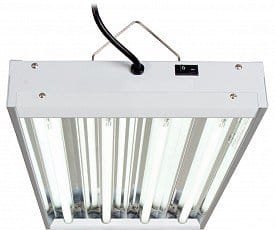 Hydrofarm is a well-known brand when it comes to gardening equipment. They have built all sorts of hydroponic bulbs, but this FLT24 model is something out of the box. It is truly a model of maximum flexibility and high performance. It can handle any type of growth environment so you don't have to worry about whether your apartment is too small for it.
The Hydrofarm Agrobite Designer FLT24 hood is coated with aluminium powder. Its 4 x 6400K bulbs give you two times more light than normal fluorescent bulbs.
This system allows you to choose multiple hanging configurations to meet your garden's design. You can hang it easily in three different ways i.e. vertically, horizontally or overhead.
And do you know what the most amazing thing about it is? It comes with a 5-year warranty. In the first year, you get free workmanship and material. In the years after that, the warranty varies.
But you will probably not need the warranty. This is because the system is so easy to use, you could actually fix it yourself.
The system comes with an 8-feet power cord. Its lumen output is around 8,000 and the market price is pretty affordable for its specifications.
5. iPower Digital Dimmable Grow Light System for Plants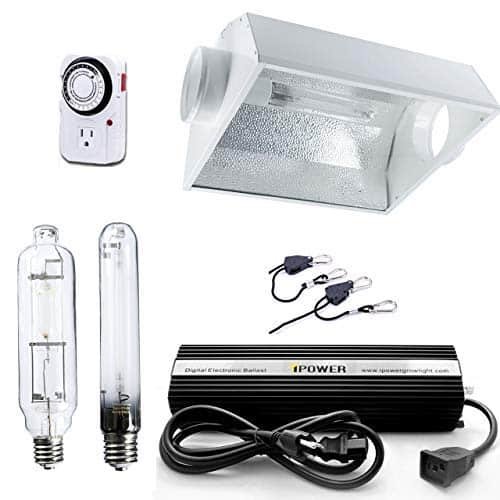 From flowering to seeding, the iPower digital light has your back. It supplies your plants with all the necessary light-related needs.
It features HID bulbs which are capable of producing the most lumen. And you don't have to mix fluorescent light with incandescent if you are using it. It emits light which is spectrum-wise balanced and the plants absorb it quickly. Chlorophyll production is also affected positively with the iPower light system.
The system allows you to dim the light by 50, 75 and 100 percent according to the plant's needs. It also comes with a reflector which enables plants to absorb more light.
The iPower Digital Dimmable Grow Light System comes with a return policy. So, if you find any faults, you can return it right away.
It's easy to maintain and according to reviews, you won't get too many problems. All in all, it's worth every penny.
Conclusion on Hydroponics Fluorescent Grow Light Bulbs In 2019
If you are a fan of indoor gardening, then a good fluorescent grow light bulb is the most important thing you'll need. Plants can't grow without proper light.
The sun is a major source outdoor light and nothing can compare to it. However, manufacturers are working to make products to emulate it. Just try one of the above-reviewed bulbs and you will definitely end up with fresh and healthy plants.