There are many benefits to having a grow tent when growing indoors using hydroponics. People resist using them because of cost, available space and lack of knowledge. Having grown using hydroponic systems with and without grow tents, I've found the extra fans, filter and planning time are well worth the effort.
Using a grow tent for hydroponics is not necessary but it does have many positive benefits. These include:
Optimizes Space
Increases Climate Control
Optimizes Your Lighting System
Reduces Long Term Costs
Reduces Noise
Reduces Pests
Reduces Odor
Increases Protection From Pets & Kids
Technically speaking, you don't need a grow tent, especially if your hydroponic garden is a few herb plants. However, grow tents are beneficial for any hydroponic garden bigger than what fits on top of an average microwave. The biggest reasons are that they are more energy-efficient, making it better for the environment and your bank account.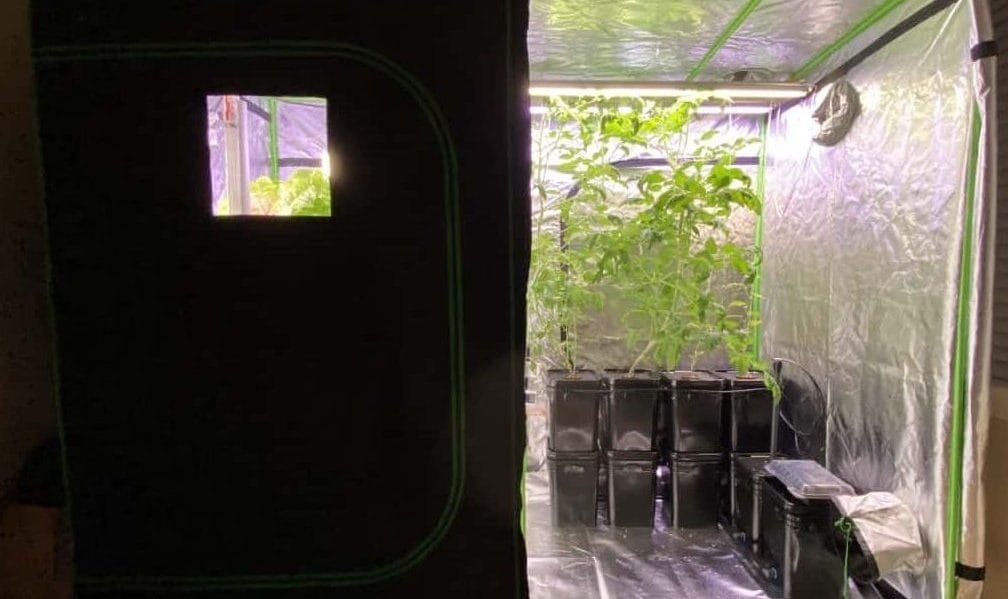 8 Benefits For Using a Grow Tent For Hydroponics
Hydroponics expands gardening to those who live in urban settings or have seasons with difficult climates. Grow tents are helping raise the success of indoor hydroponic gardeners by helping us grow more efficiently in small spaces. Greenhouses have their uses, but they are costly, and not everyone has the space for one. 
Grow tents are very affordable to purchase, or you can make them yourself to suit your specific needs and space. High quality grow tents are made with extra thick Mylar linings that increase efficiency by containing and reflecting light within the tent. If you still are not sure about buying a grow tent, check out my article,  Is A Grow Tent A Good Investment?
A complete grow tent setup will include lights, a fan, a bit of ducting and a carbon filter. I also use a dehumidifier and some small fans to control humidity and maintain airflow around the plants. I go into more details on selecting the best location for a dehumidifier in a grow room in my recent post
Regardless of whether you buy a grow tent or make your own, the benefits are numerous. Here are our eight top reasons for using a grow ten for hydroponics.  
My Favorite Grow Tent
I grow my fruit and veggies at home using the 4×8 Vivosun hydroponic grow tent. Whether you're available grow space is a closet or full basement, Vivosun has a high quality grow tent to fit your area. The reinforced floor tray prevents rips, tears and damage and also keeps spills contained.
The wall vents, doors and reinforced zipper flaps provide lots of options for ventilation and the all metal frame can easily support light fixtures, ducting and trellising. Surprisingly, these quality designed grow tents won't break the bank and can be assembled in under an hour. Check out my post discussing the best grow tents for hydroponic growers
Sale
Bestseller No. 1
Grow Tents Optimize Space
Grow tents can help you set up your hydroponics garden anywhere, even a closet or unused dead space. In addition, since light will reflect off the sides of the grow tent, you will have more space-saving options without having to purchase so much additional lighting. 
Grow tents also save you the nightmare of establishing different rooms and zones for different types of crops. Instead, you can put everything in the basement or garage and when necessary, have a separate tent for each crop's climate needs.
By growing with the Tower Garden vertical aeroponic system I'm able to grow more than 20 plants in a corner of the grow tent in my home office. The automated growing tower works indoors or outdoors, uses 98% less water and eliminates the need for bending and lifting. I grow strawberries, herbs, lettuce, kale, tomatoes, cucumbers and more with this simple to setup and operate vertical garden. See What is a Tower Garden and How Does it Work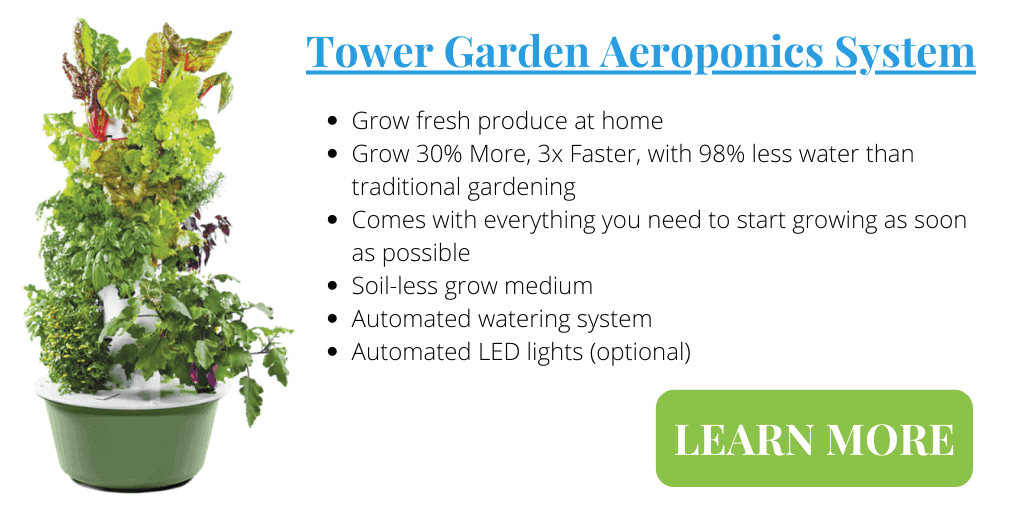 Grow Tents Increase Climate Control
Using a grow tent provides the ability to control the climate of your hydroponic garden and growing space. Indoor temperatures don't usually involve frost or stifling heat. However, the ideal comfort zone for plants is often at odds with humans. Also, areas like garages and basements suffer from large fluctuations in temperature and humidity levels which create unnecessary stress to your plants making them more susceptible to pests and disease issues.
Depending on the crops you're growing, having a few small tents allows you to keep various plants at their ideal climates, rather than having all your plants subjected to the same growing conditions. Not all plants like the same climates. 
A grow tent will capture the heat and moisture from your hydroponic system and make it work for you to keep your plants healthy and happy. That is, so long as you have proper ventilation in place. Zipper openings, fans, and vents help your plants grow healthy and nutritious food all year long. 
Grow Tents Optimize Light Usage
The inside walls of grow tents are made of reflective Mylar. This guarantees you get the maximum efficiency from your lighting system and allows you to use fewer fixtures and wattage than you'd require when growing in an open space. The reflection gets more light below the canopy of your plants which typically block out much of the overhead lighting.
It also means you don't need to supplement light from a window. You can run the grow lights at night and take advantage of cheaper electricity without knowing any lights are even on. Here's my article on everything about hydroponic lighting systems.
Sale
Bestseller No. 1
Grow Tents Reduce Long Term Costs
Grow tents are available in a number of sizes and prices and you can easily find one that will fit your budget. Over time, you will save money by using a grow tent. You not only save money on lights and controlling the climate, but you'll also lose less water to the rest of the house and have better plant output.
While homegrown produce is the best tasting and nutritious, the electricity costs from hydroponic growing can become expensive if done inefficiently.
Grow Tents Reduce Noise
Hydroponic systems involve pumps, timers, and sensors. These create noise in the form of drips, hums, flushes, gurgles, and sometimes beeps. If yours is set up in a garage or basement, this might not be a big deal. But for people who have set theirs up in closets and dead spaces, that extra noise protection from a grow tent is precious. 
After doing all the research before replacing my last air pump, I decided to write an article of the best hydroponic air pumps which considers sound level, flow, price and more.
Grow Tents Reduce Pests
Thanks to the protection of tents, you virtually eliminate pests. In addition, grow tents help you stick to your resolve not to use unhealthy pest controls while ensuring more of your crop gets consumed by you and not small and annoying creepy crawlies. 
The drawback is you won't have nature's helpful pollinators at your disposal. However, many modern crops self-pollinate. For those requiring pollination, using a fan will assist in mimicking the wind. Gentle use of a paintbrush is another handy trick. Also, some plants will be helped along with some gentle shaking.  
Here's a link to the most common plant problems and diseases in hydroponics.
Grow Tents Reduce Odor
Some plants produce odors or allergens that we may not want in our homes, and a grow tent will help contain them. Also, some of the yummy nutrients we give to our plants contain fragrances that may appeal only to sea life and gulls. Again, the grow tent helps confine scents such as seaweed, so our main living spaces are Eau de kelp free. 
Learn more about reducing odors from your grow tent in my article, Do Grow Tents Keep In Smells? Tips to Control Odors.
Grow Tents Increase Protection From Pets & Kids
We love our kids and pets. We also enjoy passing on our joy of growing our own food to our children. However, pets and kids are busy. They play hard. Cats sit on plants. Kids throw things, even if you said not to play catch indoors, and your poor hydroponic garden takes the brunt of it. A tent protects both your plants and your investment in your hydroponic system. 
Conclusion
Grow tents can seem like an intimidating investment. If you only have a few herbs in your kitchen, then a tent is not a must. But once you start expanding your hydroponic gardening, grow tents will save you money and make your gardening more efficient. Besides, the scent of seaweed is never becoming a home trend.