Do you think you need some big yard or garden to grow any preferred vegetables, fruits, herbs or flowers? No, you can now use vertical gardening technology at your home, indoor or outdoor area for growing your favorite plants or vegetables.
What is a Vertical Gardening
This is a flexible and edible gardening system to grow any herbs, vegetables, flowers, etc. in your home, indoor places with the help of pots, hangers, shoe racks, trellis and much more. This is lighter in weight, takes less space, simple to make it yourself, easy to implement, maintain and harvest.
For a vertical gardening, you need a space in your home where the plants can get enough sunlight, fade, etc. for the efficient plant growth. The wall you are going to choose should withstand moisture and the support system you are using for the vertical gardening need to be stronger for handling any weight.
You can DIY vertical gardening; they can be done in various styles and types as per your need. In this article let's check few of the vertical garden ideas that you can Do It Yourself and implement it in your home, indoor or at your garden.
Top Vertical Garden Ideas you can adapt
Below are few of the vertical garden ideas along with an example product to make you understand better.
Vertical Gardening using Trellis
Trellis acts as a best supporting system for vine crops or any trailing, if you need to make them against the wall, you need to ensure the space between the trellis and the wall to allow air circulation so that the plants and vines grow perfectly.
Making trellis is simple, you just need some high-quality wooden poles for the foundation, the rectangular sticks need to strong enough to support the trellis at the roof and the plants, now make the wooden poles into thin and then use a 2-inch nail and hammer to secure the pole.
That's it you have made a strong trellis now, the next step is to choose your favorite plants, veggies, fruits, flowers, etc. and start cultivating it.  
The product from Scroll Trellis helps you to set up an vertical garden with ease, the product is an ideal way to support your vining plants as they can grow to the desired height. This is about 4 inches wide and 9 foot tall, simple to install and use it. Your vines are protected from any mildew with the help of 2 inches support brackets; this also helps in allowing healthy airflow between the mount and the trellis. Able to  hold about 50 lbs and can adapt to any weather conditions.
Garden Tower
This is one of the soil based tower gardening system and therefore suitable for your outdoor areas. This type of vertical gardening lets you grow 50 plants in four square feet, can be easily rotated for obtaining sunlight, fade, etc.
The nutrients provided for the growth is recycled and thus saves water.Simple to use, accessible, best to use at balconies, porches, and rooftops.
An extraordinary product from Garden Tower Project  is a best example for creating a creative vertical gardening at your home, indoor or outdoor area, the pocket designed garden tower contains a large opening pocket for easy planting; there is a removable screen that allows the compost to fill in the drawer.
Pyramid Shape Vertical Gardening
In this type of vertical gardening, plants are growing the shape of a pyramid, and this is one of the excellent ideas that makes your work easier, just few wood is enough of making this pyramid shaped vertical gardening. You need to just measure the dimension range and then start developing the wood in the pyramid shape.  
The pyramid shape vertical gardening from triolife is made of red cedar, and therefore they are naturally protected from rot and deadly insects. Easy to assemble as there are no tools required.
Succulent Picture Planter Vertical Gardening
These planters will add a vibrant look to your home and sound like a lovely painting. You can use any frames in your store room to make the outer frame and take the back support for adding the picture planter. You can plant any fresh leaves in this painting and start checking for the results. One of the efficient way to make your home glow.
One of the best product of picture planter vertical gardening from Lolivia Living walls provides an attractive look to your home or indoor areas, they have developed the handmade frames to vertical succulent gardens. They have places cacti, preserved Spanish moss, and succulents for the plants.
Wall Planter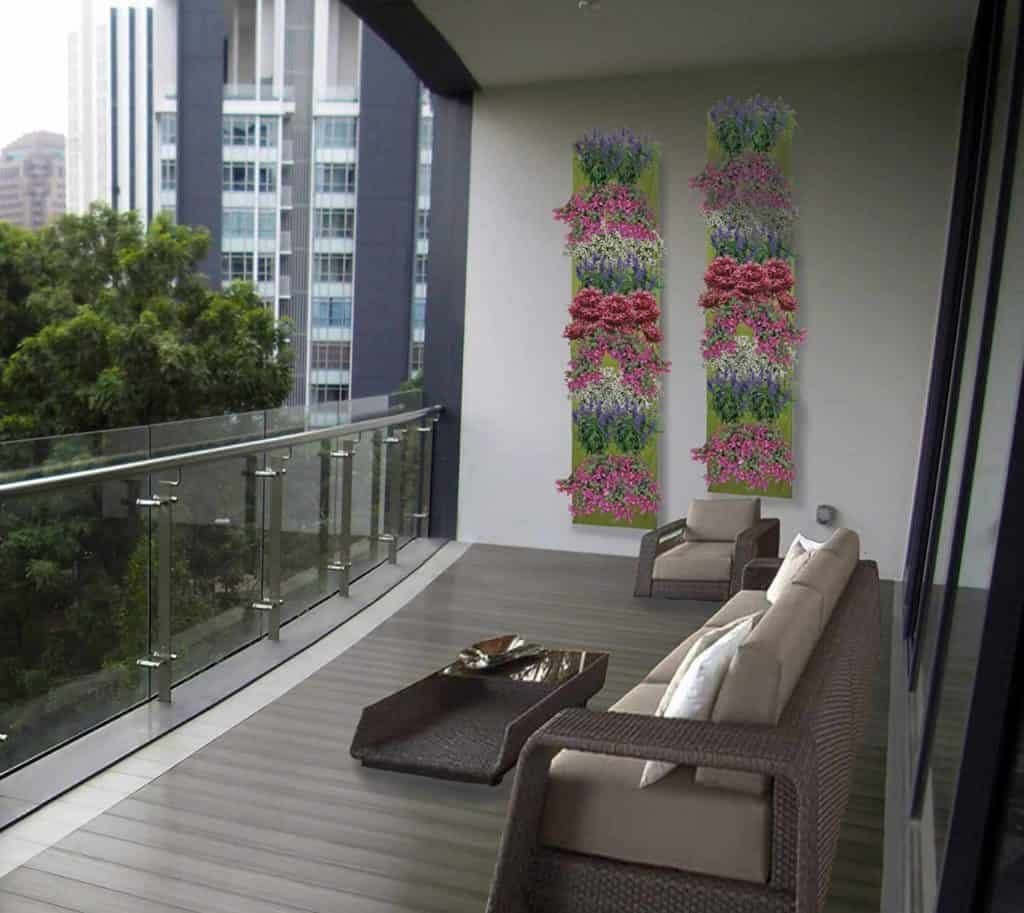 This type of vertical gardening is suitable for home entrance, patios, yards and anywhere on your home wall. You need some of the leather materials for making the pocket or any required shape and plant your favorite veggies, flowers, etc., place them in each or design in each row in the space you have.
Here is a creative vertical gardening Wall Planter product from Invigorated Living, which is attractive and best for any unused and ugly looking garden, home, balcony or any indoor area. The sample product contains eight pockets, and they can be fit into any wall for the vibrant look. You can plant any flowers, herbs, etc. as per your need.
Freestanding Vertical Gardening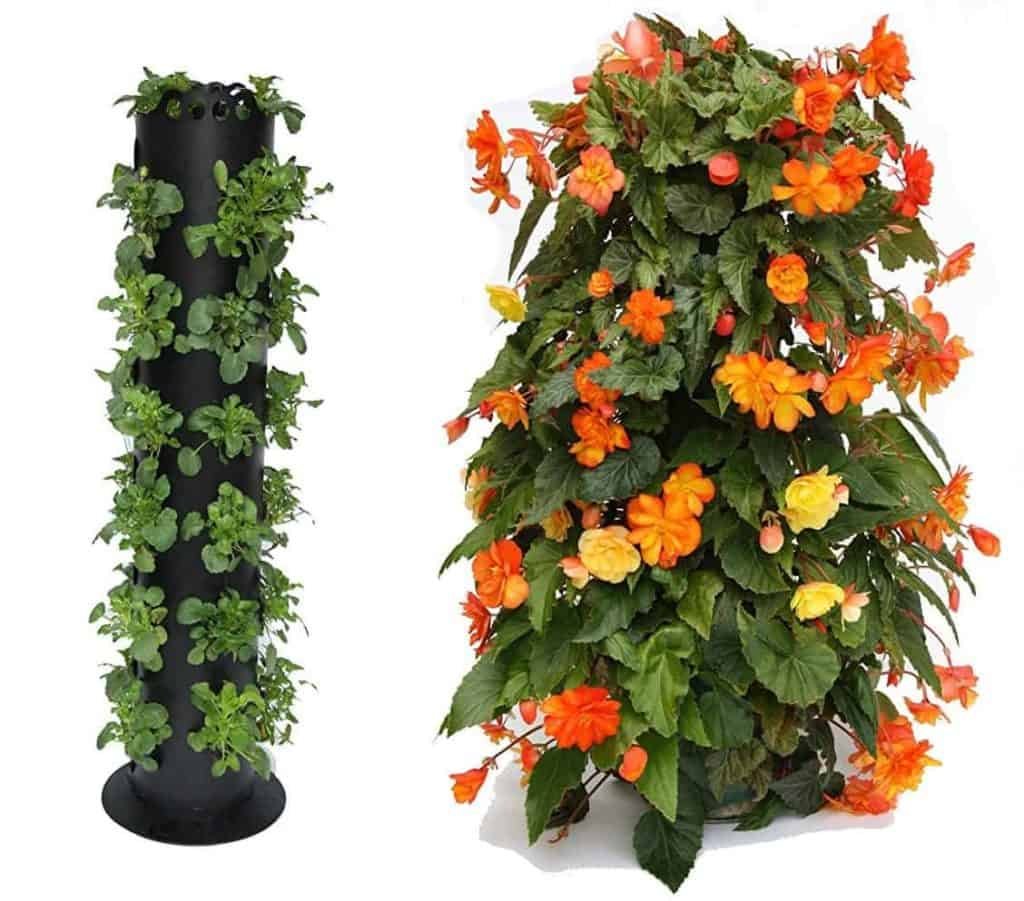 You can build this freestanding vertical gardening as per your choice; you need any tower like standing fixture to make the base stable. You can use wood or any other material for the support, measure the dimension and start dropping holes for the cultivating the plants.
This would be the fantastic idea to decorate your garden, home, balcony, front door, patio, etc. You can also use any wood material to make the row and start seeding the plants in a container or any pots.
The Freestanding product from Flower Tower is about three-inch tall free pillar-like standing planter, and this is best for planting herbs, fruits, and flowers. Best to adapt in patios, porches, and balconies.
Hanging Flower Pots
An excellent idea for decorating your home, indoor or outdoor area with flowers, making these flower pots are very simple, you need some iron material for developing this flower pot, design them into a shape of a flower pot and start seeding your favorite plants, you can hang them on wall, fence, grill and much more places with ease. Paint them for providing the vibrant look.
One of the best hanging flower pot from Lovous is made of high-grade quality iron with a detachable hook for hanging, available in various colors and best for hanging on the balcony, window, railing, etc. Used with silk flowers, small potted plants, and dried flowers.
Stackable Vertical Gardening using Pots
This idea is a fantastic one for decorating your home or any indoor areas like balconies, kitchen, etc. You need to get a reliable and high-grade quality plastics for making this pots and arrange them in a stackable way, so that they stick together.
Now you need to start growing your favorite fresh flower, veggies, plants, etc. in this stackable pots for tasting your garden vegetables and fruits.
Here is a top stackable product from Mr Stacky , that you help in building an unique vertical gardening with ease , the pots are made of premium quality plastics and come with different colors; each stacked planters can hold up to 20 plants, therefore high chances for decorating your home as well as a good chance to enjoy the nutritious food.
Best for both indoor and outdoor use, if you are going to place outdoor, you can plant these total stackable tiers to the single pot so that it stands with more stability.
Vertical Gardening using Metal Plant Stand
Making this vertical garden is simple, you just need a metal stand with the option for the metal pot to hold. You can get this metal stand from shop or else you can make it by yourself, you can develop as per the size of the place you are going to fit the vertical gardening, similarly, pot can be designed by yourself too, this would be perfect for your balcony, garden area, patios, etc.
One of the best vertical gardening product for  Metal Plant Stand from Bright Maison consist of the metal plant stand for placing it around your garden area, dining area, balcony, etc. You can use any metal pot or any pot that is made of a high reliable material to fill with your favorite veggies, flowers, fruits, etc.
Hanging Baskets
This is an extraordinary idea for providing a vibrant and aesthetic look to your home, indoor or outdoor areas. You just need to make a basket with any high-grade quality materials along with chains for hanging to your balcony, patio, front area of the home, garden area, etc.
The wonderful hanging basket from Panacea Product is best for designing a vertical garden. This is made of steel and the hanging chain for hanging is made of the reliable powder coat finish for the stability. Best for any home, indoor or outdoor places.
Final Thoughts
Apart from the above ideas, there are hundreds of creative and innovative ideas like vertical gardening using normal or soda bottles, using pallet trays, using floral felt systems, beam planters, using shoe racks and much more. You can try any of the above ideas and let us know your experience. Save