Aquaponic Fish Tank
Being an aquarium hobbyist is one thing. Being a gardener is something else. But you can opt for an aquaponic fish tank if you are interested in taking care of fish and gardening at the very same time. This system of fish tanks enables a plant to reside above the aquarium, filtering the water that provides safe and clean water for the fish. The fish also supplies the plants with nutrients through their waste. In an aquaponic fish tank, this symbiotic interaction can be observed, making aquaponics a wonderful way to appreciate both fish and plants.
If you are interested in purchasing an aquaponic fish tank, we will give you information regarding everything you need to know about aquaponics fish tanks including a list of 7 recommended aquaponics fish tanks available.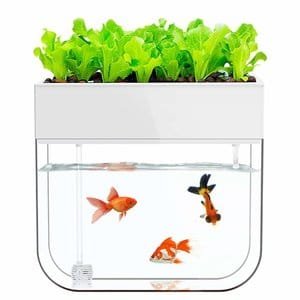 The product is an Ecosystem fish tank. The kit is a system of mini symbiosis
consisting of fish, plants and microbes. Fish dung is decomposed by microbes, plants absorb nutrients and clean the fish water.
This is a seed sprouted & hydroponics growing system that allows you to sprout multiple seed types in the tray, enjoy healthy vegetables for salads, burgers and soups.
You can also use it as a plant and flowers growing hydroponics system. The hydroponic filtration process pumps dirty water from the tank to plant roots, it is used as nutrients by plants.
The tank, therefore, needs 50% less cleaning than conventional fish tanks! The U-shaped base makes it easy even when cleaning is required. Siphon oxygen supply the water level of the tank is tidal-like fluctuation through the automatic siphon model and the plant roots can breathe regularly, no need to water or fertilize.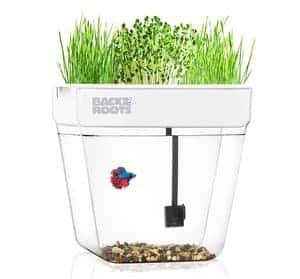 This product is an ecosystem for Mini Home. This water garden is an aquarium with a self-cleaning fish tank that grows organic micro greens on top! This tank is a hydroponic scaled-down system-the fish waste nourishes the plants and the plants clean the water. You can use these greens in salads or smoothies.
This kit was ranked among the top gifts for holidays, gifts for gardening, gifts for teachers and unique gifts. It comes ready to give in beautiful packaging and will surely be the year's gift. Go ahead and treat yourself or someone you love today!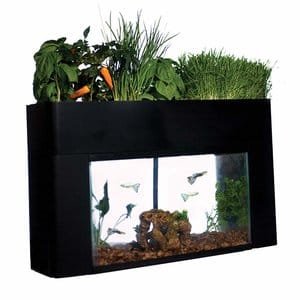 The Aqua sprouts garden is a self-supporting aquarium & aquaponics package for the home, office or school. Plants clean the fish's water. Fits any standard 10-gallon aquarium. Grow throughout the year a variety of veggies, herbs, greens and decorative plants.
This product also includes Removable light bar to which you can attach any standard indoor light of your choice, ideal for places where natural light sources are insufficient. You can just adjust the light to the needs of your plants.
The perfect instrument to explore how our natural environment works. Specialized teacher curriculum is available with the product. This upgraded model includes adjustable drain extenders for the quiet flow of water. Also, there is no need for a battery.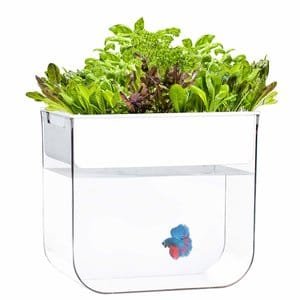 This is a perfect aquatic garden. Aquarium garden is a symbiosis system of mini fish and vegetables made up of fish, plants and microbes. The fish excrement produced by feeding fish is broken down into nutrients which can be consumed by microbes by plants, purifying the quality of the water and nourishing plants. Suitable for all types of fish.
Tropical fish require additional heating equipment. The water table of the plating tank is built with a tidal-like fluctuation through the automatic siphon design. This helps plant roots to breath easily, while having no need to water or fertilize the plants.
Natural oxygen is supplied in 30 seconds, bringing the fish a joy-full experience. This product connects family and nature through the Joyfay water garden, enjoy the wonderful pleasure of planting, make a green salad in the busy schedule, and enjoy the nutrition dancing in the lips.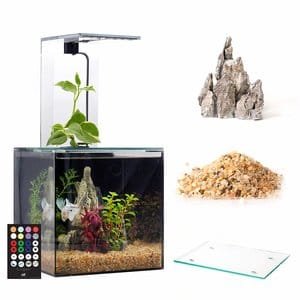 This Ecoqube aquarium is a low maintenance product, with a sustainable ecosystem. In this instrument Plant filters water so you apparently won't have to clean it yourself.
It's easy to install a complete fish tank kit. The product is consists of original sand, ornament, cover and, remote control. While improving well-being, it will also establish close contact with nature, bringing you joy and great health.
The product comes with a 1-year warranty and also with great customer service & parts replacement.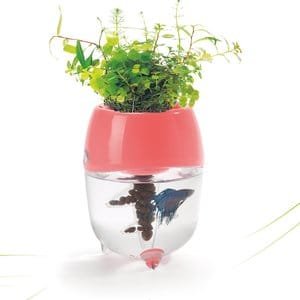 Dr Moss aquaponic do not need watering. It is indeed an eco-friendly product. This product comes with education and fun. The amount of chemical fertilizer need is reduced because of the naturally produced fertilizer.
The water in the fish jar is purified at the moment when the plant root absorbs nutrients. All of these provide fish with a better living environment.
The organisms in the water breakdown excrement into the fertilizer needed by
the plant.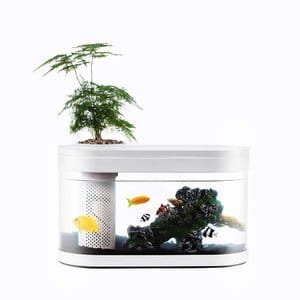 Neverland fish tank is Aquaponics Ecosystem Fish Tank. It features-Amphibious ecology which is indeed a great technology. In this instrument, you don't need to change water frequently. This product facilitates One-button smart pumping system. It also saves energy that too silently.
The product is Cleverly set up independent with feeding port. It also has Adjustable oxygen supply which supplies the correct amount of oxygen. There is no chance of power failure, it has 5V low voltage safety control system which is for safety purpose.