As the New Year approaches, our "New Year, New Me" goals are also getting back in the field, aren't they? Everyone seeks to learn something or persuade something as the New Year commences, and these are some of the small gestures than brings immense joy to us. Getting a new hobby or reviving an old one can surely be a therapeutic experience. If your new found hobby is gardening, or probably your New Year plans revive around kick-starting your own garden, don't fret. We got your back!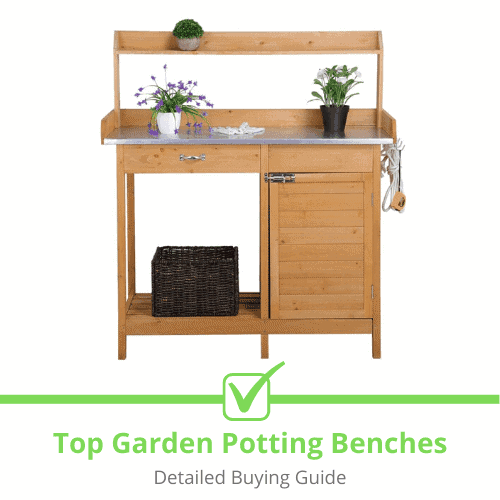 There can be a lot of things you would plan to do before you set up your own garden. Probably have a small bird bath, some beautiful little rocks, or just a stellar potting bench to house all your new plants and give them their own home? I mean who would say no to a gift that would elevate their gardening experience to a whole new level? What better time it is than the New Year itself
to gift yourself with a potting bench that will be your new gardening friend.
The basic requirements or checklist you might need to refer before getting your own potting bench will include:
Choose Based on Proportions
While you place your deal on a potting bench prime importance are to be given to its proportions. It must be fitted onto your garden without eating up a lot of space. So checking the height and dimension becomes important.
How Much Can It Store
It becomes essential that you check whether you can take all your plants. Ending up buying something that is too small or too big just makes things difficult.
Check on the Nature of Material
Though color doesn't come under this category the quality of material and the product as a whole must be examined properly. The durability of the product must also be brought under scrutiny.
Now let us dive into the 15 Top Garden Potting Benches for Outdoor Planting and Gardening that are available on the market.
The Yaheetech potting bench is multifunctional. Apart from that it perfectly matches all your needs. Assembling a potting bench is no more a concern. The instruction guide attached along helps you effectively in simplifying your work. You are provided with all the necessary items to assemble it which includes all the screws. With the help of a Philips screwdriver, you can easily assemble it within minutes.
Drawers are provided facilitating you to stock up all your tools and other sharp stuff. You can also hang them off with the help of hangers provided. The cabinet of the plotting table can be used for keeping all the unused pots. Whatever is kept remains hidden from the view. The tabletop is the place where you will be carrying all your DIY stuff.
The potting bench is a product of for wood and is perfectly finished with a galvanized tabletop. The tabletop can hold up to 100kg and things weighing 80kg can be accommodated in the drawers. So feel free to use the table be it for grill, patio or to facilitate a place for some small plants.
This plotting beach is specially designed to provide you comfort as you submerge into the fun of gardening. Promising quality and outstanding storage facilities make your daily gardening activity a joyous one.
2 openable potting shelves along with 3 hooks on the right places makes storing of all your tools and gardening utensils is as easy as a piece of cake. A detailed manual which is provided with the set is your best friend when it comes down to assembling. The tabletop remains rust-resistant even on rainy days. Hence making it a suitable one for looking for a long term product.
It perfectly fits into the provided place. The sturdy structure is the result of the use of Fir wood. The tabletop is made of galvanized steel. Though it is a simple model that addresses all your needs it doesn't compromise on offering you comfort.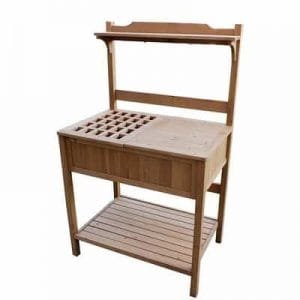 Paint some beautiful gardening moments with a latticed tabletop and well-built framework of the Merry Garden potting bench. Made to be both indoor and outdoor-friendly, the potting bench is partially assembled. So you don't have to put in a lot of effort or work in order to assemble it. The Garden potting set comes with all the essential screws and hardware. The comprehensible instructions help you in the process of putting it together.
The table is made of Canadian Hemlock. The sides and key parts like the tabletop can be removed and cleaned without much ado. It is designed to carry a maximum weight of about 100 lbs. It has a cubby floor and a shelf at the bottom each capable of carrying about 100 lbs respectively all together.
The upper and lower tier of the table is spacious and can be utilized for other purposes as well.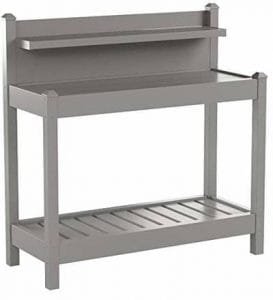 Manufactured using quality rich PVC vinyl the product is extremely helpful. The use of titanium dioxide on the tabletop helps in protecting the bench from all sorts of external factors namely the UV rays, etc.
The Dura Trell potting bench is highly easy to be assembled. Cleaning of the mess can be done without too much strain. You can simply follow the instructions and put the pieces together in no time. The bench is protected against all sorts of wear and tear.
You can purchase it with confidence as it is backed with a warranty of 20 years. The major parts once assembled can easily be cleaned by removal or either by simply spraying of water with the assistance of a hose pipe.
So you make some great gardening experience as you indulge yourself in the crafting and preservation of the tiny plants.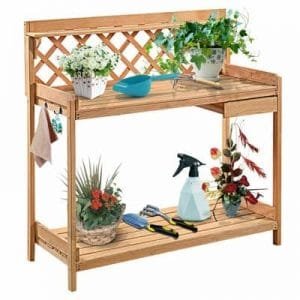 Either keep plants or flowers or simply engage in some funfilled gardening activities. A combination of convenience and simple design makes it the most sort after one in the market. Also, the light-weighted body makes it possible to be moved around.
It is designed to offer you immense comfort. So you can do your work without having to kneel down. Similarly, the potting bench comes with two hooks situated on the left side where you can hang your gloves. The drawer in the right corner is a place where all your tools remain.
Made of Fir wood and weighing about 32.5 lbs it can be easily moved around and suits all decor. Open-ended bottom self is where you can keep all the plants and small pots. A fenced framework at back makes sure it prevents your pots from falling off.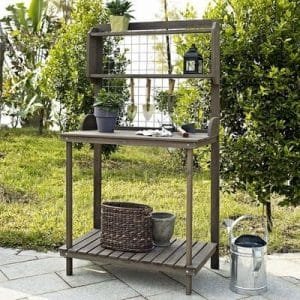 With two top shelves and four hooks, sorting a place for your tools become easy peasy. You can fit together all the pieces effortless with the help of the instruction manual.
Looking for a piece which you don't have to repaint? Well, then consider it as an option. The dark brown wood makes it stand out of the crowd. It goes easily with the outlook of your home.
The potting bench is covered with a wired framework on its backside. You hang all your tools here. You can pile up all your tools on the two shelves and bottom tabletop.
You can simply accommodate some plants or use it for grill and patio or use it as your workbench. Or otherwise, you make your creativity play the game. It's all up to you.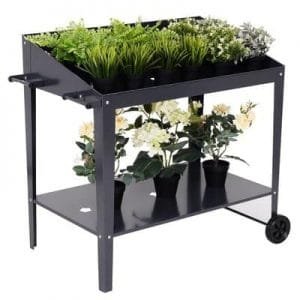 This potting bench has been constructed in such a way so as to allow an easy moment. The two side wheels and the two handles provide assistance for swapping places.
Galvanized steel makes cleaning effortless. The bench is easy to put up by the support of the manual provided.
The bottom shelf takes care of all your storage problems and necessities. The top shelf is where all your job is done. However, since it is multifunctional you can put it into various purposes.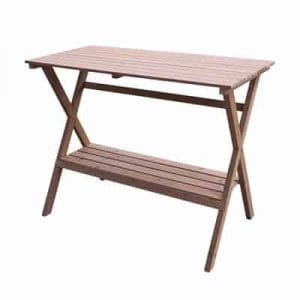 Contemplating over the purchase of a simple, petite and durable potting bench? The Merry Garden potting bench was a product of the Chinese Canadian Hemlock gives you a sturdy structure that can be fitted into the smallest of smallest places.
Fitting the hardware and erecting it into a single and complete one is no more troublesome. As it is partially assembled you can just reconstruct the bench effortless. Manual and the mandatory hardware are provided.
Inside or outside, it easily goes with any style or decor. The lower shelf can be used for stowing your tools while the tabletop can be used for the execution of simple garden-related tasks.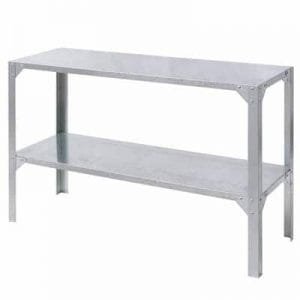 Weighing around 24 lbs the Galvanized steel workbench is easily portable. Perfectly fits both outside and inside work and decor.
Summer or winter the potting bench faces all the weather conditions without giving in to rust or wear off. The top tier and the bottom tier finds enough room for all your tools. It can also be used as a workbench.
The multifunctional bench is designed to be easily cleanable. The simple and well-constructed bench might turn out to be your best friend as you carry some garden activities together.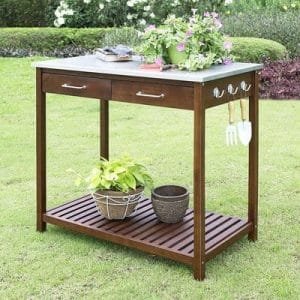 It is high time you focus on making your garden beautiful. Grow some pretty flowers or some healthy veggies. The Acacia Wood workbench will be a great partner under all occasions.
Be it tools or gloves you can find a place for all of them in the two drawers and three hooks. The galvanized zinc table top makes sure no stain stays back as you wipe away all of it with ease.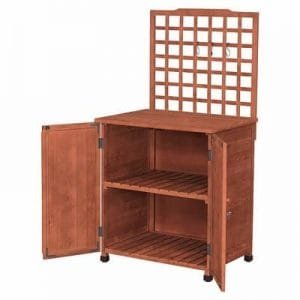 The workbench is designed with immense care to award you with the demanded comfort and convenience. Two openable shelves take in all that you stuff. Be it tools or plants, they will surely find a place in here.
The brown colour potting bench can be turned either into a workstation fulfilling all the gardening wishes or perfect fit to carry all dishes.
A product of Cypress wood is designed to stay strong and durable under all weather conditions. Three hooks on the fenced wall carry all that you need.
Crafted with natural Firwood, it is water-resistant. The two drawers and a cabinet offers you the benefit of a spacious area. So storing will never rise to be an issue.
Galvanized tabletop does not let any stain to rest back. Hooks are placed to carry all small and non-sharp objects.
Construct the potting bench easily with the guidelines provided. 38lbs weight permits it to be easily movable. So change it according to each occasion. Whether it's a party or some simple planting work it helps you with everything.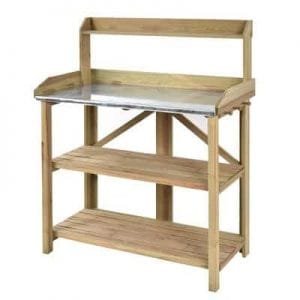 The extremely light weighted body makes it easily movable from one place to another. It has two lower shelves and a galvanized tabletop. So take pleasure as you work hard to master the skill of gardening.
It is made of Chinese Firwood. So there is no doubt about its sturdiness and durability. Promising life span along with ergonomic structure makes it suitable to discharge all your gardening tasks.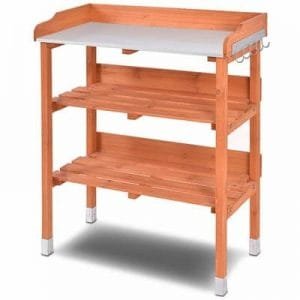 The three-deck workstation is designed to provide assistance in all your tasks. Suffering from back and knee pain? The ergonomic structure makes sure that you no longer have to suffer from that.
With three shelves and several hooks, you can find a suitable place for all your tools and hardware. It owns a galvanized tabletop. It has four strong foot and portable weight making it a suitable piece for all outdoor activity.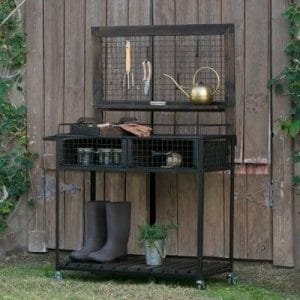 All your efforts seem to be worthwhile when the plants grow healthy. While you ensure your success of gardening let the potting bench be your assistant.
The portable Beau Garden potting bench is simple, sturdy and all that a gardener would ask for. It is made to be a mixture of metal and wood in the right places. A shelf and a lower-tier stand address all your storage needs.

Check Price

Be it a hobby or just to hold your things perfect everything by buying the right potting table. Dive into the world of greenery as you plant some lively sampling with the assistance of the
workbench. Happy gardening!