Introduction to Indoor Grow Light Systems
A lot of people have decided to start growing plants indoors for a variety of reasons.
The health craze has caused many to turn to growing all year around. This provides them with crops throughout the year and is thought to be healthier.
Others have turned to hydroponic farming because of the legalization of marijuana in many states. This has created a good opportunity for people who want to start their own business.
The opportunities are growing fast in this field and you would need to make sure you purchase the right equipment in order to push profit margins a notch higher. However, selecting the right indoor light systems can be difficult with so many products in the market to choose from.
One of the best products for hydroponic farming is the iPower GLLEDXJMPS4F Full Spectrum LED 36W Grow Light System. This system provides everything needed for the novice hydroponic farmer or the advanced farmer.
Without a good system, gardening indoors is useless. These systems act as substitutes for the sun and can be used all year around in order to get the desired output from the plants.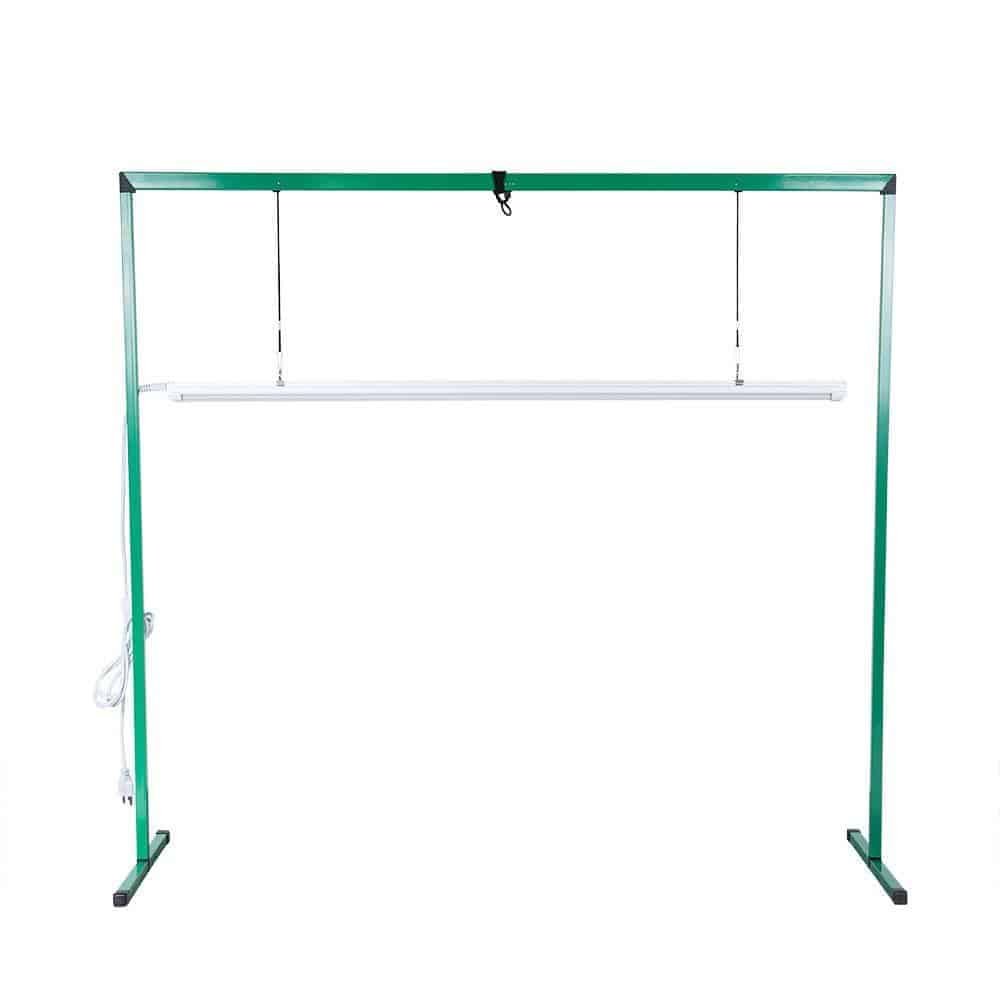 Uses of Indoor Grow Light Systems
Some people are unaware of everything an indoor grow light system can do for the gardener. Some gardeners may believe that specific systems are required for certain situations. But there are several situations where one system can provide the gardener all that he/she needs.
Here are just a few uses for an indoor grow light system:
Growing plants from seedling stage to full growth.
Preparing seeds for spring planting.
Enhancing growth on plants that may need more sunlight.
Completing root or propagating cuttings successfully.
Extending daylight to plants when the outdoor growing season is ending.
Completing the growth of young plants.
Allowing year around planting.
Features of the iPower GLLEDXJMPS4F Full Spectrum LED 36W Grow Light System
Size – The size of the system is determined by the amount of space a farmer has available to grow indoors. The iPower system is for the serious farmer because it's 4-feet wide and can be adjusted to 52.5-inches in height.
Lighting Capabilities – Grow light systems should be able to provide the best possible light for maximum growth. The iPower provides a red-blue-white lighting feature that is LED and it allows for the best coverage.
Energy Efficient – In hydroponic farming, the cost of energy is always a factor that needs to be calculated, especially if the farmer is growing plants as a business. The 36 watts this iPower model system provides makes it one of the most energy-efficient systems on the market.
Cost – The cost of the system is important. Finding a quality system at a reasonable price is challenging, but this iPower model can be found at a cost as low as $50.
Life Span – Since operating a hydroponic system can be costly when it comes to the replacement of parts, it is important to find out the lifespan of the bulbs. The iPower uses LED lights which last 50 percent longer than other indoor grow light systems.
Now you can see how many factors need to be considered before choosing a grow light system. Keep in mind that the iPower system can grow any type of plant, from seeds to vegetables, as well as cannabis.
[easyazon_cta align="none" identifier="B01E9IO6LW" key="small-light" locale="US" tag="smallscale-20″]
Pros
Expanded lighting area for more plant production.
Energy efficiency which exceeds other similar brands.
Excellent adjustable height with a feather-touch mechanism.
Provision of three light colors: red, blue and white for maximum growth possibilities.
Easy to assemble.
Up to 1-year warranty.
Cons
A little costlier than fluorescent lighting because it uses LED lights.
Not sized for smaller garden areas.
Can only be shipped within the United States.
FAQs
• Does this product need a ballast to operate?
No, this light system runs at cooler temperatures and does not need a ballast to function efficiently.
• How many panels are needed to light an area of 57 x 57 x 78?
Since this iPower model lights a larger area than other similar products, only three of these systems will be needed to light an area of this size.
• What voltage is needed to operate this system, 220V or 110V?
This system can be plugged into an 110V outlet, so no special voltage outlet is required to use it.
• Can this system be used in an apartment?
It can be used for any space, but remember it is 4-foot wide, and the height can be adjusted.
• Can you stack this system on a wire rack?
This system is already taller than others, but it can be stacked on top of any other device, such as wire racks or even chairs if you need more height.
Final Verdict
The final verdict on the iPower GLLEDXJMPS4F Full Spectrum LED 36W Grow Light System is that it is a high achiever.
If you want to use the five-star method of rating this system, then most owners give it an overall average of 4.5 stars. This is exceptional for a product. Nothing is perfect, but this is one of the best indoor grows light systems we have reviewed.
Our recommendation is based on the quality of the product, customer satisfaction, energy efficiency, growing efficiency, lighting area, the cost of use and of the product itself, along with a host of other factors.
Remember, if you or anyone you know is looking to get into hydroponic farming, then the indoor grow light system chosen makes all the difference. The wrong one will create a lot of frustration, but the right one will make indoor gardening a pleasure.
Whether a hobby or business, indoor gardening can be a very satisfying and profitable venture. In order to succeed, find out what works best.