Hydroponics is a type of growing plants without soil but using water with added minerals to use as a mineral nutrient solution. terrestrial plants can be grown with only with their roots exposed to this mineral nutrient solution. There are several hydroponic methods to install and out of these only "Deepwater culture" hydroponics requires the use of an air pump, as the plant's roots are completely submerged in the mineral nutrient solution. The diffuser gets the oxygen from the air pump to deliver the air stream into tiny bubbles to make it easier for the root system to absorb.
Regardless of your hydroponic method, it is important to know that it is not a bad idea to add an air pump as it adds oxygen as well as keeps the water running to avoid stagnation.
There are several factors to choose your right air pump based on its size, noise, etc. Here we have tried to provide our 13 best picks to help you buy your ideal air pump.
Hydroponics Air Pumps Reviewed
1. Natural Waterscapes PowerAir 2 Pond Aerator
This PowerAir Pond Aerator Kit is designed to aerate ponds up to 1 acre, oxygenate water by pushing air from the compressor through airline tubing and out air Diff users at the bottom of the pond. Its Aerator pump pushes 2 CFM of air, with a lifting rate of 2100 gallons per minute and only consumes 1.6 running amps. Aerator minimizes pond maintenance by breaking down pond muck and dead vegetation and reduces unwanted nutrients like nitrate and phosphate that trigger string algae and green water. This Pond Aerator Kit provides premium components that are built to last, Its Power Airs includes 1/4 Rocking Piston Compressor, 2 Weighted Air Diff users constructed of a powder-coated steel base and EPDM Rubber Diff users Disks, and Quality Weighted Air Line that won't crack
2. Air Force Pro 80 Linear Air Pump - 1363 GPH
This air pump is commonly used to provide oxygen in aquariums, fish farms, hydroponic systems and more. It has a solid aluminum body for enhanced durability. It is been designed to cut noise and vibration. Its oil-less compressor allows for easy maintenance and does not need the use of any lubrication. It is used with EcoPlus Trumpet Style Air Manifolds.
3. HI-BLOW (HP 80) LINEAR AIR PUMP
This Hiblow HP-80 is a compatible replacement for the Gast SPP-80, Thomas 5078 and 5080, and many other 80 LPM air pumps. The Hiblow HP-80 is commonly used on many 500 GPD systems. Hiblow Aerators, Hiblow Septic Air Pumps, and Hiblow HP Models are the highest quality septic air pumps used on aerobic septic systems today. The Hiblow Diaphragms last longer than any pump on the market. Hi-Blow Linear Septic Air Pumps all have low power consumption, quiet operation, low vibration, low pulsation, long life, and are easy to service. It produces clean oil-less air.
4. EcoPlus Commercial 7 Hydroponic Air Pump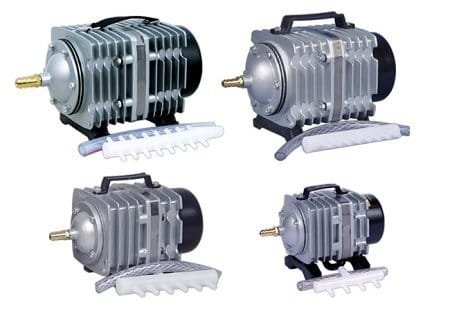 This air pump is widely used to provide oxygen in aquariums, fish farms, and hydroponic systems. Its cylinders and pistons are made of excellent materials, making the pump strong, durable. It is convenient to operate without oil or much noise. It consumes 280 watts and produces an output of 200 liters/minute. It comes with one year of warranty.
5. Supreme Oxy-Flo High Volume Air Pump
This supreme hydroponic air pump is designed to meet the requirements of a multitude of water-related applications. The beautifully designed, nature-friendly pups can be used for a plethora of purposes like oxygenating outdoor ponds, water gardens, indoor water features, and hydroponic nutrients, etc. They also can be used for de-icing outdoor installations during harsh winters and aerating single or many aquarium tanks and terrarium tanks. It operates on standard 110V electric and comes with 6' power cords. They have been designed to operate efficiently with a motor that is non-oil lubricated. For outdoor applications, it is recommended that the water-resistant ABS plastic unit be enclosed with allowance for air circulation to protect it from the elements.
6. EcoPlus Pro 100 Linear Air Pump
These EcoPlus Pro Linear Air Pumps are commonly used to provide oxygen in aquariums, fish farms, hydroponic systems and more. These air pumps are designed to cut noise, heat, and vibration in environments where aeration is needed. This product requires minimal maintenance and is oilless; no need for lubrication. Each pump comes with a metal barbed outflow fitting, metal air manifold, and tubing with two hose clamps. It can be used with EcoPlus Trumpet Style Air Manifold. Includes two metal fittings, tubing, two metal clamps, and manifold.
7. Supreme Hydro-Mag Recirculating Water & Air Pump
This air pump incorporates an adjustable Venturi which adds aeration into the nutrient-rich water flow, stimulating root growth. It has 10' Power Cord on all models. It has time-proven Magnetic Drive Technology. It is energy efficient and Oil-Free. It supports In-line or Submersible operations. Models 2 through 7 include 1/2" Male NPT Outlet. Models 9.5 through 18 includes 3/4" Male NPT Outlet. Models 24 and 36 include 1" Male NPT Outlet. It has an additional 5-Year limited warranty from the manufacturer. The motor should be primed before use.
8. Air Stones Long-Lasting Bubble Bar Aquarium Fish Tank
This bubble bar pump lasts at least 3 times longer than regular air stone Send a torrent of air bubbles cascading from your aquarium bed with this aquarium bubble bar. Just attach to your air pump with standard airline tubing and you'll create a decorative curtain of tiny bubbles that helps agitate and aerate your aquarium water. Great for freshwater, saltwater/reef aquariums and hydroponic use Increase oxygen levels, "blow-off" CO2 and raise pH Fits standard airline tubing aquarium and CO2 tubing with an inner diameter of 3/16″ inches and of dimension: 8″ L x 1″ W x 0.75″ inches. It includes 1 piece of air stone bar.
9. Danner Supreme 06010 Model 9.5 Aqua-Mag Air
The Danner Supreme 06010 Model 9.5 Aqua-Mag Air Fractionating Water Pump 950 GPH is built to run 24/7. It features an adjustable venturi, fractionating impeller, and reusable debris filter. Its maximum flow rate is 950 Gph, and it operates submerged or inline. This pump is designed for use with filtration systems and other applications that requires dissolved oxygen mixed into the water column. It works in saltwater and freshwater. This pump's maximum height is 13 feet, 6 inches. The adjustable venturi inlet is on the pump's front and includes a muffler to reduce noise. The pump has a ceramic magnet with an air fractionating impeller that provides aeration. An 18-inch vinyl aerating tube is included.
10. HSH-Flo DC 12V Elemental O2 Air Pump
This Elemental O2 air pump can be used in freshwater or saltwater aquariums as well as in hydroponics. Its innovative streamlined design allows for easy heat dissipation. It is piston-driven which ensures long-lasting air pumping. It helps in an increase in dissolved oxygen levels in aquariums.
11. Supreme Hydro-Mag Recirculating Water & Air Pump with Ventur
This air pump comes with an adjustable venturi which makes its supreme hydroponic utility pump add aeration into the nutrient-rich water flow, stimulating root growth. This pump uses time proven magnetic drive technology and is energy efficient. It is capable of in-line or submersible operation. Features a 1/2-inch FPT inlet and MPT outlet. UL listed 10-feet power cord. It comes with a 5-year limited manufacturer's warranty. It comes with 950-GPH capacity. This pump uses time proven magnetic drive technology and is energy efficient. This air pump does not need any extra assembly.
This air pump's shell is made of high-quality ZL 102 aluminum alloy with radiation fins.heat-dissipation is more effective. It is driven by the electromagnetic motor, It adopts the straight-line reciprocal motion to produce air and more reasonable in structure. It adopts SF new-type wear-resistant material for the cylinder and piston, which is of low power consumption. It has an oil-less lubricated design, and its compressed air is purified. It is an ideal choice to provide oxygen in aquariums, fish farms and hydroponic systems with 12 outlets.
Frequently Asked Questions
A)
The voltage range of air pumps depends on their size or to be precise in their dimensions and their power.
A)
Yes, it makes noise, but the amount of noise varies from products to products. Here we tried to list out the less noisy air pumps.
Q)

Which current does it use AC? (or) DC?
Q)

Who deep will it pump air?
A)
Air is generally pumped at least as deep under the water as the water is to be lifted (If the water table is 50 ft below, the air should be pumped 100 feet deep).